FROM CNN's Jack Cafferty:
Iran is warning Israel not to attack its nuclear facilities - with one top official saying if Israel attacks, "Iran will respond in a way that they will not be able to sleep easy anymore." This warning comes a day after Iranian President Mahmoud Ahmadinejad raised tensions between the two countries, calling Israel the "most cruel and repressive racist regime" at a UN conference in Geneva.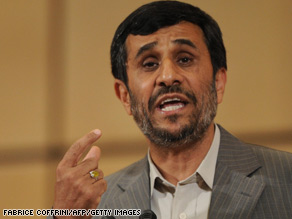 Iranian President Mahmoud Ahmadinejad is pictured at the UN review conference on racism in Geneva. EU delegates walked out of the conference after Ahmadinejad launched a verbal onslaught against 'cruel' Israel.
Israel, which is now being led by Prime Minister Benjamin Netanyahu's hardline government, says Iran is developing nuclear weapons that could threaten its very existence. Last week Israeli President Shimon Peres dismissed the idea that Israel is planning any kind of attack on Iran's nuclear facilities.
But The London Times reports the Israeli military is getting ready to do just that. They say Israeli forces have acquired special aircraft that would be required for the strikes, and are practicing missions to simulate an attack. The newspaper also reports there will be two nationwide drills to help the public prepare for any potential retaliation.
One senior defense official tells the Times that Israel wants to know they could strike Iran within a matter of days or "even hours" if given the green light. It's believed Israel would need to hit more than a dozen targets, including moving convoys.
The same official adds that it's unlikely Israel would bomb Iran's facilities without getting at least tacit approval from the U.S. Vice President Joe Biden recently told CNN that Israel would be "ill-advised" to attack Iran.
Here's my question to you: Israel is reportedly getting ready to attack Iran's nuclear sites. Should they?
Interested to know which ones made it on air?
John from East Liverpool, Ohio writes:
If Iran becomes capable of having nuclear weapons, naturally Israel would feel threatened. Remember how the U.S. and J.F.K. reacted when threatened by Russian nuclear missiles in Cuba? President Kennedy was ready to go to war over that. Just maybe Israel has a point.
Doug from Dallas writes:
Maybe the better question, Jack, is: "What is the world going to do when Israel does attack"? Israel has shown they will do what they think is necessary to protect themselves regardless of what anyone else thinks and they're usually right. Ahmadinejad is a bully and Israel deals with bullies very well. Iran is fueling the fires of hatred; they better be prepared for the response.
Paul writes:
Of course they shouldn't, it would only add validity to Ahmadinejad's vile comments at the UN, spurn more extremism in the area and set the diplomatic process back to square one. The cycle of violence and destruction has to stop sometime, and the quickest road to that should be through focusing on the Palestinian issues and bringing moderate Islamic nations on board.
Marilyn from Tallahassee, Florida writes:
Joe Biden's got it right: "ill-advised" is precisely what an Israeli attack on Iran would be. That said, Israel (whatever you think of the country) has always been a loose cannon. If they decide to strike, they won't ask us first. We won't know 'til we see the smoke.
Rauno from Wisconsin writes:
Israel should not attack Iran, nor is it necessary. Israel already has a huge nuclear arsenal of its own that could obliterate Iran. It is not even clear that Iran has the ability to launch a nuclear attack on Israel… If Israel goes forward with it, the U.S. should withdraw all support for the Israeli government.
Ryan from Galesburg, Illinois writes:
"Israeli forces have acquired special aircraft that would be required for the strikes..." Gee, I wonder where they found those? Can we just say that the U.S. has set up the region for catastrophe?