FROM CNN's Jack Cafferty:
Something else to add to President Obama's ever-expanding to-do list: regulating the credit card industry. The president and his chief economic adviser, Larry Summers will meet tomorrow with executives from some of the top credit card issuers. The administration has vowed to crack down on high interest rates and predatory lending practices it says contributed to the economic crisis.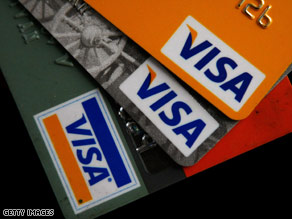 New measure would call for clearer labels on credit card offers - similar to food nutrition information labels.
Many lenders have raised credit card interest rates significantly as the recession drags on; which means defaults and delinquencies have shot up. Consumer groups are especially critical of companies who raised rates on existing card holders while they were getting federal bailout money.
Meanwhile the House Financial Services Committee is looking at a bill that would call for clearer labels on credit card offers - almost like what's used for food. In the Senate, Chris Dodd is calling for stricter federal oversight that would say when lenders can raise rates and would prevent rate hikes in certain instances.
The Federal Reserve passed new rules that limit some credit card rate increases this winter, but they won't go into effect until July 2010.
It's no surprise that the banking industry is pushing back; they want the White House and Congress to wait until the Fed's new rules go into effect before taking any other action. And that's more than a year away. Lobbyists for the credit card industry argue that if the measures are too tough they could end up restricting the flow of credit to consumers and blocking the economic recovery.
Here's my question to you: How would you regulate the credit card industry?
Interested to know which ones made it on air?
Marin writes:
The credit card companies are hurting the consumer rather than helping. The interest rates skyrocketed for everyone, even for long-term customers like me who have always paid on time. The only option they have left me with is that I have stopped using my cards.
Rich from San Clemente, California writes:
Jack, There's way too much fine print in all the offers. Take the ability to arbitrarily raise rates away from the companies. The card balance is a "loan" and should be dealt with as such: a fixed-rate loan with a definite term. Or, the government should open a national citizens' bank and issue national credit cards that have fixed low rates and no arbitrary adjustments.
Gareth writes:
Only in America would you have contracts where one party can alter the terms to suit themselves at any time for any reason. They all operate out of South Dakota which legalizes usury, a den of thieves. Get a rope!
Richard from Colorado writes:
Encourage people to go to the nearest pair of scissors and destroy all of their cards and pay cash for everything except their home and possibly a car. This is only common sense.
Diana from Monroe, Michigan writes:
Make the banks that issue the credit cards pay the same rate of interest on customer's savings accounts that they collect on that customer's credit card.
Mark from Voorhees, New Jersey writes:
I would reinstitute the usury laws. What happened to them, anyway? They seem to have disappeared during the Bush administration. I just borrowed ten grand from the mob because their rates were cheaper than my credit card company.