FROM CNN's Jack Cafferty:
Those hotly debated Bush era interrogation memos include this little nugget: CIA officials waterboarded two al Qaeda suspects 266 times. Interrogators waterboarded Abu Zubaydah at least 83 times in August of 2002; and they used the tactic against Khalid Sheikh Mohammed, the self-described planner of the 9/11 attacks, 183 times in March of 2003. That's about six times a day.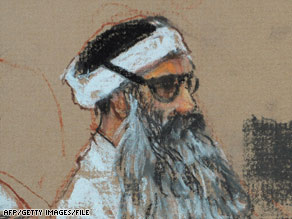 Khalid Sheikh Mohammed, seen in a December sketch, was waterboarded 183 times in a month, a memo says.
These memos show waterboarding was used more frequently and with a greater volume of water than CIA rules allowed. Time magazine suggests the use of the tactic seemed to "occasionally get out of control." Don't you wonder what they learned from Khalid Sheik Mohammed the 183rd time they waterboarded him that they didn't know after waterboarding him 182 times?
In an about-face today, President Obama opened the door to the possibility of criminal prosecution for former Bush officials who authorized this stuff. He says it will be up to the attorney general to decide whether or not to prosecute them. Up until now, the president insisted there would be no investigation of those who ordered the torture, or those who carried it out.
The president's reversal comes a day after Senator Dianne Feinstein - whose Intelligence Committee has started a closed-door investigation into all of this - urged him to stop making public promises not to launch criminal prosecutions related to the interrogation program.
There is also pressure coming from the United Nations, which says the U.S. has signed the international Convention Against Torture and is therefore required to investigate and prosecute any credible allegations of same.
Here's my question to you: Does waterboarding two members of al Qaeda 266 times constitute a crime?
Interested to know which ones made it on air?
Allan from Placerville, California writes:
If this is not torture, I don't know what is. The people involved and those who allowed it to happen should be tried for war crimes. We certainly can't complain about other countries if we aren't above it.
Chris from New York writes:
What constitutes a crime is our elected officials not doing everything in their power to protect us from those whose life mission is to do us harm. So poor Khalid Sheik Mohammed was waterboarded 183 times, huh? I wouldn't care if it happened 366 times. His life's mission is to see you, me, your children and my children destroyed, so call me a "right wing wacko" if I don't feel sorry that he had some water poured on his face a bunch of times.
Kim from Dodge City, Kansas writes:
Yes, it's criminal behavior by the CIA at the very least. But so is sending over 4,000 American soldiers to their death without a proper and legal declaration of war. As for me, I say we are torturing the wrong guys.
John from Canada writes:
If killing a person with a bomb or bullet in wartime isn't criminal, how can this procedure during the 'war on terror' be considered wrong? Why aren't suspects interrogated using chemical 'truth serum'-style drugs? In the race to be politically correct and to abide to the Geneva Conventions, our only options left are to issue sternly worded memos and deny whipped cream on their desserts.
Gigi from Oregon writes:
Sure does. Now what are we going to do about it? I'm for an eye-for-an-eye. Those that ordered the waterboarding should feel their pain.
Derek writes:
If it saves 266 American lives then I don't believe it is. All options should be on the table when it comes to intelligence gathering to save American and lives and defend our nation from harm. These men tried to kill Americans. What if on the 266th time they told the interrogator where Osama bin Laden was?
Paul writes:
Waterboarding two members of al Qaeda 266 times is not a crime. It's 266 crimes.