FROM CNN's Jack Cafferty:
Those hotly debated Bush era interrogation memos include this little nugget: CIA officials waterboarded two al Qaeda suspects 266 times. Interrogators waterboarded Abu Zubaydah at least 83 times in August of 2002; and they used the tactic against Khalid Sheikh Mohammed, the self-described planner of the 9/11 attacks, 183 times in March of 2003. That's about six times a day.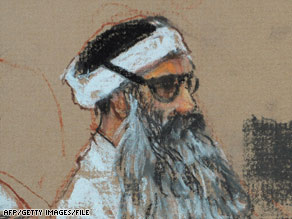 Khalid Sheikh Mohammed, seen in a December sketch, was waterboarded 183 times in a month, a memo says.
These memos show waterboarding was used more frequently and with a greater volume of water than CIA rules allowed. Time magazine suggests the use of the tactic seemed to "occasionally get out of control." Don't you wonder what they learned from Khalid Sheik Mohammed the 183rd time they waterboarded him that they didn't know after waterboarding him 182 times?
In an about-face today, President Obama opened the door to the possibility of criminal prosecution for former Bush officials who authorized this stuff. He says it will be up to the attorney general to decide whether or not to prosecute them. Up until now, the president insisted there would be no investigation of those who ordered the torture, or those who carried it out.
The president's reversal comes a day after Senator Dianne Feinstein - whose Intelligence Committee has started a closed-door investigation into all of this - urged him to stop making public promises not to launch criminal prosecutions related to the interrogation program.
There is also pressure coming from the United Nations, which says the U.S. has signed the international Convention Against Torture and is therefore required to investigate and prosecute any credible allegations of same.
Here's my question to you: Does waterboarding two members of al Qaeda 266 times constitute a crime?
Interested to know which ones made it on air?