FROM CNN's Jack Cafferty:
As gay marriage legislation continues to pick up steam in several states, some Republicans are now calling on their party to get behind the movement. A top adviser to John McCain's presidential campaign warns that the GOP will keep losing young voters and the Northeast as long as they oppose same-sex marriages.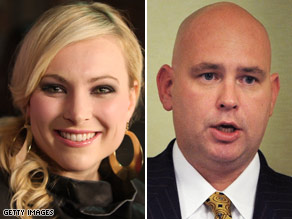 Meghan McCain (left) and Steve Schmidt (right) agree that it is harmful to the GOP for candidates to be perceived as anti-gay.
Steve Schmidt told a meeting of a gay rights group called the Log Cabin Republicans that it's harmful for GOP candidates to be seen as anti-gay in places like California, Washington and New York. Schmidt - who has a lesbian sister - called heterosexual marriage "a tradition, not a creed," and dismissed arguments from conservatives that allowing gay marriage would weaken the institution or that it could turn the GOP into a "sectarian party." Nonetheless, he acknowledged that he's unlikely to find support from many in his party in the near future.
One Republican who does agree is John McCain's daughter, Meghan. She addressed the same group over the weekend, saying there's "a war brewing in the Republican party" between the past and the future. Meghan McCain says that embracing new technology - like Twitter or Facebook - won't solve the party's problems; instead, the party needs to break free from "obsolete positions." Her dad must be loving this.
Earlier last week, John McCain's daughter had written an opinion piece called 'Memo to the GOP: Go Gay' urging Republicans to "get past our anti-gay rhetoric" if they want to gain significant support from younger voters. At a time when only one in four voters identifies themselves as a Republican, some are suggesting the perceived intolerance of the party on issues like gay marriage is costing them dearly.
Here's my question to you: Why are some Republicans calling on their party to support same-sex marriage?
Interested to know which ones made it on air?
Cindy writes:
To get votes? Let's face it, Jack, the GOP is in a no-win situation. If they try to "pretend" they are for gay marriage just to get votes, then they lose the "right-wing conservative" votes and either way, they lose.
Diana from Santa Cruz, California writes:
Some Republicans have awakened from an eight year stupor and are facing the reality of the 21st century: Gays are not going to go back into the closet and are an important constituency in our country. Kudos to Meghan!
Jim from Honolulu, Hawaii writes:
As a liberal Republican (yes, there are a few of us left, although I prefer the word "progressive"), the answer is simple. The Right has lost the Cultural War, and decisively, and if we want to be more than an irrelevant regional party we better stop denying that fact. And besides, it's just the right and decent thing to do.
John from Alabama writes:
Jack, The real test will be the Republican platform in the presidential election of 2012. Will same-sex marriage be part of the platform?
Jan writes:
The Republicans shouldn't change their minds about gay marriage until Jesus does. By the way, didn't California vote against same-sex marriage? Forsaking morality for the sake of votes, I think not.
Rob from Brooklyn writes:
It's because they're trying to get people to vote for them. I'm gay and this isn't going to work. They're the party of Darth Vader - nobody in their right mind should vote for the GOP.
Mike from California writes:
It's called grasping at straws.
Don from Milwaukee writes:
You said it, Jack: they simply want to attract more voters. As usual, it has nothing to do with what they really believe in – if they even know what that is – but rather simply vote maximization. If they thought the majority of the voters would vote for those who wore their underwear on their heads, they'd do it.