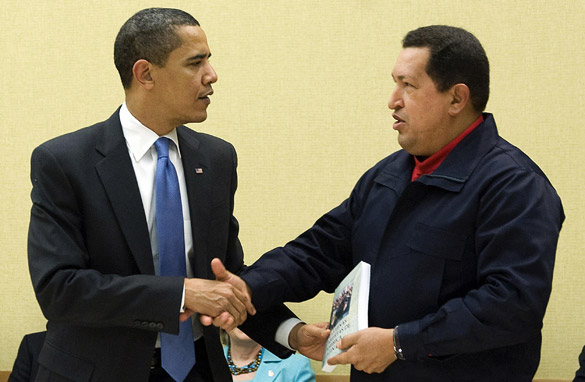 Venezuelan Pres. Hugo Chavez gives Pres. Obama a book entitled 'The Open Veins of Latin America' during a multilateral meeting to begin during the Summit of the Americas in Port of Spain, Trinidad. (PHOTO CREDIT: JIM WATSON/AFP/GETTY IMAGES)
FROM CNN's Jack Cafferty:
It was "irresponsible" for President Barack Obama to be seen "laughing and joking" with Venezuelan President Hugo Chavez - so says Republican Senator John Ensign.
The Nevada lawmaker describes Chavez as a brutal dictator who violates human rights; and is one of the most anti-American leaders in the world. Chavez once called President George Bush the "devil" and last month dismissed President Obama as an "ignoramus."
Democratic Senator Amy Klobuchar defended the president, saying all he did was shake hands like President Bush did; and that Mr. Obama is reaching out effectively to a wide range of countries.
At the Summit of Americas, President Obama and Chavez were photographed smiling and shaking hands. The Venezuelan president also gave Mr. Obama a copy of a book that talks about imperialism in the region.
President Obama says it's unlikely that by shaking hands or having a polite conversation with Chavez that "we are endangering the strategic interests" of the U.S. Our president says we have nothing to fear from Venezuela, whose defense budget is probably 1/600 that of the U.S.
And he went even further, suggesting that the presidential campaign proved that Americans want the president to engage with other world leaders - whether they're friends or enemies. He says Americans don't view a willingness to talk to other countries as a weakness.
Meanwhile Chavez now seems open to re-evaluating his nation's ties with the U.S. He's considering appointing an ambassador to Washington. Both the U.S. and Venezuela had kicked out each other's ambassadors last year.
Here's my question to you: One GOP senator calls Pres. Obama's appearance with Hugo Chavez "irresponsible". Do you agree?
Interested to know which ones made it on air?
Lane writes:
It's never irresponsible to forge ahead and make your friends trust you and your enemies to listen to you. Olive branches are cheaper than warships.
Rob writes:
Irresponsible doesn't even start to describe Pres. Obama's actions with this thug. Our current administration will give away our country. Wake up, Americans.
Audrey writes:
Jack, It's no different than going into your office every day knowing you hate your boss, but you smile, shake hands, kiss butt... you get the idea. President Obama is showing that he is the bigger person and is not lowering himself to Chavez's level. Chavez is an idiot!
Pete from New York writes:
Politeness is one thing, a love-fest is another. Remember this guy is trying to crush democracy in Venezuela. Freedom of the press and media are on the way out. Opponents are hiding in fear of their lives and Obama is acting like he is just another guy he met at a barbecue.
Tony writes:
Obama shook Chavez's hand, smiled with him and accepted a book from him. And guess what? It worked almost immediately to improve relations. Chavez walked over to Secretary Clinton and told her he was ready to restore diplomatic relationship. Irresponsible? Ha. This is pure genius!
Mike from Denver writes:
I believe the correct term is "common courtesy." You do not have to like someone to be polite and shake hands. This is a lesson many forget to teach their children.
Claire writes:
Uh, no. Distasteful to some, including myself, but necessary. We can't continue giving the finger to everyone we disagree with.