FROM CNN's Jack Cafferty:
President Obama has "gone abroad and gored an ox," according to an AP analysis that examines how the president is challenging the deeply held belief that the U.S. doesn't make mistakes in dealing with other nations. In just 3 short months in office, Mr. Obama has been very vocal to our friends and foes about where the U.S. has gone wrong.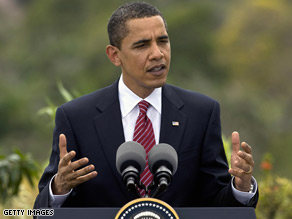 Pres. Obama is pictured during a press conference yesterday following the 5th Summit of the Americas in Port of Spain, Trinidad.
That includes:
– Admitting to Europe that America deserves at least part of the blame for the world's financial crisis.
– Telling Russia he wants to reset relations that deteriorated to Cold War levels under President Bush.
– Asking NATO for more troops in Afghanistan; and then not throwing a tantrum when he didn't get much help.
– Lifting restrictions on Cuban Americans traveling home and sending money to relatives.
– Saying America's hunger for illegal drugs, poor control over guns, and money flowing into Mexico were partly to blame for the drug cartel violence south of the border.
– Shaking hands with and accepting a book from anti-American Venezuelan President Hugo Chavez.
The AP compares President Obama's rather hard core efforts to change America's image abroad to former Soviet leader Michael Gorbachev, who pretty much scrambled non-stop to break the communist empire's image before it ran itself into the ground.
President Obama says he's committed to telling the world that the U.S. is a powerful and wealthy nation - but just one among many that needs to respect other cultures and perspectives. Critics worry that the new president might be making the U.S. too vulnerable by readily admitting mistakes and being willing to talk to opponents.
Here's my question to you: When it comes to dealing with foreign countries, is President Obama moving too fast?
Interested to know which ones made it on air?
Paul from Ontario writes:
The U.S. makes up four-percent of the world's population, yet during the Bush era nobody else seemed to matter. Obama knows how the U.S. has been perceived abroad and is now doing damned good work trying to change that.
Bill from Michigan writes:
I rather like his approach: speak the truth and deal with it. It's so much more refreshing than the arrogant ambiguity and denial of the previous administration. The only problem is that not everyone can handle the truth.
Susan from Idaho writes:
Ya get more flies with honey, honey. How can we assess any of these encounters without time to tell us what did and didn't work? We know for sure that the past administration didn't make us approachable or well-loved.
Lance writes:
Yes, he is moving way too fast. He doesn't yet know the repercussions of what he is doing. Next he will be meeting bin Laden in his cave for tea and biscuits.
Bruce writes:
President Obama admitting to the world that U.S. foreign policy has been less than perfect is a breath of fresh air. Clinging to ill-conceived policies out of nationalistic pride is why international disputes go on for generations.
Michelle from Philadelphia writes:
Jack, Considering that the prior administration put our global reputation down the toilet, a little honesty from President Obama can't be such a bad thing. I think we've gotten so used to lies and cowboy-style foreign policy, we've forgotten what diplomacy can look like when it's backed by integrity.
Kathy from Georgia writes:
How can you move too fast when you are eight years behind?