FROM CNN's Jack Cafferty:
She's been mostly out of the national spotlight since John McCain lost in November; but Sarah Palin was back in a big way last night. The Alaska Governor spoke to a sold out crowd of 3,000 at a Right to Life fundraising dinner in Indiana.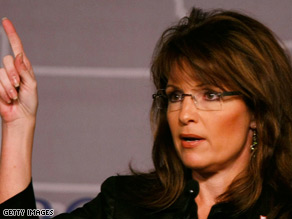 Organizers even set up a paid closed-circuit broadcast at an auditorium and officials had to close down streets nearby. People taking pictures and seeking autographs mobbed Palin.
At the dinner, the Republican governor criticized President Obama's position on abortion and embryonic stem cell research. Palin surprisingly told the crowd that when she learned she was a pregnant with a Down Syndrome baby, she "just for a fleeting moment" considered getting an abortion.
Politico reports that even though Palin hasn't been doing a lot of fundraising - that hasn't stopped many from using her name, her image. etc. to raise some big bucks, often without her approval.
Groups on both sides of the abortion issue, environmental groups and political committees from both parties have gotten in on the act.
Politico describes her as "an almost unparalleled fund raising force."
Meanwhile Palin's big appearance in Indiana came at the end of a rough week for the Governor back in Alaska. Her controversial nominee for state attorney general was rejected by the Republican-controlled legislature after damaging confirmation hearings. As it turns out - Wayne Ross had previously defended a KKK statute, characterized gays as "degenerates," and in 1991 reportedly said, "If a guy can't rape his wife, who's he gonna rape?" Ross denies he said it.
Nice pick, Governor.
The legislature also made clear it won't accept Palin's effort to turn down more than $400 million in federal stimulus money.
Here's my question to you: What is it about Sarah Palin that makes people reach for their wallets?
Interested to know which ones made it on air?
Steven from Charlotte, North Carolina writes:
It's probably why traffic can be bottlenecked for miles from a car accident on the highway. And why we cover our eyes when watching a horror movie, but peep through our fingers. We don't know what's going to happen, but we have a feeling it will be worth the pain of seeing it!
Joann from Las Vegas writes:
Jack, Sarah Palin is the only thing left for the right-wing religious extremists to hang on to. What is truly interesting, and ironic, is that Sarah admits to thinking about an abortion for herself in a few fleeting moments. That is certainly a choice she wouldn't have if abortion was illegal. Isn't that right, Sarah?
Janice from Illinois writes:
Jack, I know that I would get out my wallet and contribute to a worthy cause. I would pay my fair share for her to go back to Alaska and stay there.
B. from North Carolina writes:
People pay to see two-headed snakes at carnivals, too. Does that mean they want one in their house?
Amarissa from Miami writes:
She is honest, Jack. She is one of us. Not an elitist or a fake. Common people can identify with her and we are the majority! Her virtues are not seen in most of our elected officials and that is why she is being put down, because she is a threat to them. She is here to stay, whether you like it or not.
Hope from Madisonville, Kentucky writes:
She might have a lot of right-wing admirers but the lady has some screws loose. If people are giving her money, they have some screws loose, too. If this is the best that the Republicans can come up with, say hello to another win by Obama in 2012.
Mareike from Los Angeles writes:
Why does Palin make people reach for their wallets? To see if it's still there?