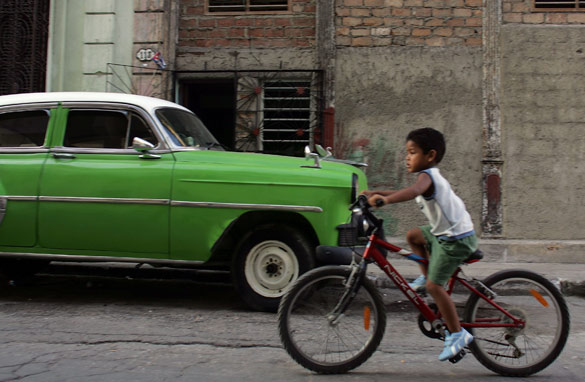 Raul Castro says Cuba is ready to talk about "everything, everything, everything" that the U.S. wants to discuss. (PHOTO CREDIT: GETTY IMAGES)
FROM CNN's Jack Cafferty:
Secretary of State Hillary Clinton says the U.S. is ready to talk with Cuba; just as President Obama heads to a 34 nation Summit of the Americas that excludes Cuba.
The U.S. is under increasing pressure from Caribbean leaders to end its policy of isolating the communist state. Critics say the policy, which goes back nearly half a century, has failed to bring about change in Cuba and has instead isolated the U.S. in the region.
Secretary Clinton has made it clear that Washington wants Havana to take certain steps to help improve relations - things like opening up its society, releasing political prisoners, and opening up to outside opinions and media. There is some concern that leaders at the summit will be "distracted" by the issue of Cuba, instead of focusing on the global economic crisis.
Meanwhile the desire to talk is apparently mutual. The Cuban government says it's prepared to meet with the Obama administration. Raul Castro says they're ready to discuss human rights, freedom of the press, political prisoners: "everything, everything, everything" that the U.S. wants to discuss.
A New CNN/Opinion Research Corporation poll shows the majority of Americans back the Obama administration on this. 64 percent of those surveyed think the U.S. should lift the ban on travel to Cuba and 71 percent say the U.S. should re-establish diplomatic relations with the island nation. Earlier this week, President Obama lifted all restrictions on the ability of U.S. citizens to visit relatives in Cuba and send money there.
Here's my question to you: Should the U.S. end the sanctions and restore full relations with Cuba?