FROM CNN's Jack Cafferty:
She's been mostly out of the national spotlight since John McCain lost in November; but Sarah Palin was back in a big way last night. The Alaska Governor spoke to a sold out crowd of 3,000 at a Right to Life fundraising dinner in Indiana.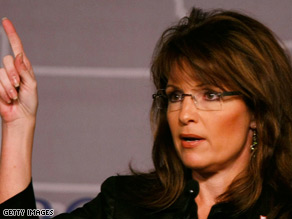 Organizers even set up a paid closed-circuit broadcast at an auditorium and officials had to close down streets nearby. People taking pictures and seeking autographs mobbed Palin.
At the dinner, the Republican governor criticized President Obama's position on abortion and embryonic stem cell research. Palin surprisingly told the crowd that when she learned she was a pregnant with a Down Syndrome baby, she "just for a fleeting moment" considered getting an abortion.
Politico reports that even though Palin hasn't been doing a lot of fundraising - that hasn't stopped many from using her name, her image. etc. to raise some big bucks, often without her approval.
Groups on both sides of the abortion issue, environmental groups and political committees from both parties have gotten in on the act.
Politico describes her as "an almost unparalleled fund raising force."
Meanwhile Palin's big appearance in Indiana came at the end of a rough week for the Governor back in Alaska. Her controversial nominee for state attorney general was rejected by the Republican-controlled legislature after damaging confirmation hearings. As it turns out - Wayne Ross had previously defended a KKK statute, characterized gays as "degenerates," and in 1991 reportedly said, "If a guy can't rape his wife, who's he gonna rape?" Ross denies he said it.
Nice pick, Governor.
The legislature also made clear it won't accept Palin's effort to turn down more than $400 million in federal stimulus money.
Here's my question to you: What is it about Sarah Palin that makes people reach for their wallets?
Interested to know which ones made it on air?