FROM CNN's Jack Cafferty:
As President Obama travels to Mexico, the U.S. continues to grapple with the spill over violence from Mexican drug cartels and the enormous problem of illegal immigration. So - in typical government style - the administration has decided to add another layer of bureaucracy in the hopes of solving these problems.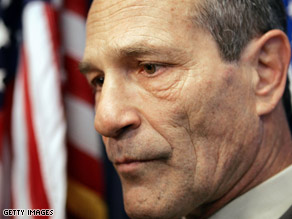 The Obama administration has appointed former federal prosecutor Alan Bersin to fight illegal immigration and deadly drug violence along the Mexico/U.S. border.
They've named a so-called "border czar" to oversee the efforts of ending drug cartel violence that killed almost 7,000 people last year; and slowing the tide of people illegally crossing north into the U.S. A border czar. Why don't they just close the damn border?
Homeland Security Secretary Janet Napolitano named Alan Bersin to be the czar. He's a former Justice Department official who worked on cracking down on illegal immigration in the 1990s. And judging by the number of illegal aliens in the country, that wasn't exactly a home run.
The Obama administration has promised to target border violence and work with Mexican officials to stop drug and gun trafficking. They've already committed $700 million in aid to Mexico and are sending hundreds of federal agents along with high-tech surveillance gear and drug sniffing dogs to the region.
If we want to get serious about fixing these issues, the answer is to secure the border, which remains open almost eight years after the 9/11 attacks; and enforce the laws that are already on the books regarding illegal immigration. And don't forget the huge appetite for illegal drugs in the U.S., which is fueling the Mexican drug wars.
More government bureaucracy is hardly the solution.
Here's my question to you: Is a "border czar" the answer to our illegal drug and immigration problems with Mexico?
Interested to know which ones made it on air?