FROM CNN's Jack Cafferty:
Yet another sign that when economic times are tough, things can get ugly: A new report suggests that right-wing extremism in the U.S. may be on the rise. The Department of Homeland Security says these groups might be using the recession and the election of the country's first African-American president as tools to recruit members.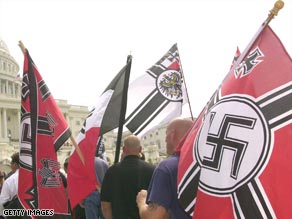 The Department of Homeland Security says membership in extremist groups like this may be increasing.
They say there's "no specific information" on planned violence by domestic right-wing terrorists; but real-estate foreclosures, unemployment and tight credit could all lead to a "fertile recruiting environment." There's even the possibility of confrontations between these groups and government authorities.
The report says many right-wing extremists are antagonistic toward President Obama and his perceived policies on issues like immigration, expanding social programs to minorities and restrictions on owning guns.
It also points to concerns about anti-Semitism, saying some people are blaming the loss of jobs and home foreclosures on a conspiracy planned by a "cabal of Jewish financial elites."
The report cites "lone wolves and small terrorist cells" as the biggest threat - because their low profile makes it hard to catch them before they act.
The Southern Poverty Law Center agrees that President Obama's election may have boosted membership in some groups, but questions the link to the economy.
Meanwhile at least one conservative radio talk show host suggests that this report is meant to step on free speech and First Amendment Rights - which the Department of Homeland Security denies. It's probably worth pointing out that the Obama administration also issued a warning about left-wing extremists in January.
Here's my question to you: What should be done about a potential increase in right-wing extremism?
Interested to know which ones made it on air?
Benny writes:
Jack, They claim they fear their guns will be taken away, but they're making the case that their guns should be taken. They're about nothing but hate and disorder. It seems to me they hate intelligence and embrace ignorance.
Pete from St. Louis, Missouri writes:
The same thing we did to other unpalatable groups, such as the Mafia and the KKK. Let the FBI do their job. If they are a legitimate threat, they will be brought down appropriately.
Mike writes:
Right-wing extremism is a fact of life. They do not accumulate guns for nothing. I believe they are sincere in their efforts to prepare for a war, and unfortunately I believe they think it is going to be here. These people are dangerous and fueled by the right-wing nuts on the air.
Tim from Hot Springs, Arkansas writes:
This type of thing happens every time there is a recession… Young, urbanites resort to crime to survive and whites in rural America unite to blame others and "protect" themselves. Either the economy needs to recover and recover quickly or we will need to crush the extremists like pebbles just as we did in the mid-90s. Let's just pray we it happens before another Oklahoma City.
William from Minneapolis writes:
As a black man, I will shock your audience with this: Don't do anything. If the government does anything to restrict 1st Amendment rights of these extremists, they will go underground with more venom than before. Prosecute them under current law if they violate the law, but don't squash their rights.
George from New York writes:
Now that they are out of the White House, I feel much better.
Mario from Montreal writes:
Put Rush in jail.