FROM CNN's Jack Cafferty:
New York could become the fifth state to legalize gay marriage. Governor David Paterson is expected to introduce legislation tomorrow that would make marriage between same-sex couples legal in New York.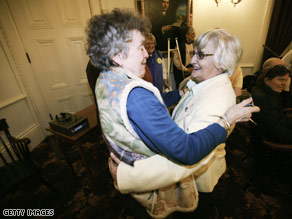 Last week, Vermont became the first state to enact a same sex civil marriage law through legislation, and not a court order.
Paterson has previously said he's committed to bringing "full marriage equality in New York state," adding it's a problem that gays and lesbians who live in a civil union aren't entitled to around 1,300 civil protections that are available to married couples.
Former New York Governor Eliot Spitzer introduced the same bill back in 2007 - it passed the Assembly but died in the state Senate. It's expected the bill would pass the Assembly once again, but would need support from some Republicans in order to pass the Senate.
Supporters are hoping that the momentum is there for the bill to pass this time around. That's because Iowa's Supreme Court recently overturned a ban on same-sex marriage; and Vermont's Legislature also just voted to allow gay couples to marry. Same-sex marriage is also legal in Connecticut and Massachusetts.
Although these four states have legalized gay marriage, polls suggest the majority of Americans remain opposed to the idea. A CNN/Opinion Research Corporation poll from December shows 55 percent of those surveyed don't think gay marriages should be recognized by law as valid; 44 percent think same-sex marriages should be recognized.
Here's my question to you: What would it mean if New York becomes the fifth state to legalize gay marriage?
Interested to know which ones made it on air?
Deb from Lancaster, Pennsylvania writes:
From a local perspective, it would mean that Pennsylvania would have to consider the question of recognition of these unions, since New York is a bordering state. That is an issue that we have pretty much managed to handle with the Ostrich Formula: Bury your head and hope it can't find us. Fat chance.
Ron from Florida writes:
So what? Do you think the majority of the American people really care about this subject? Think about it. This applies and is of concern to gays and their supporters. There are too many more IMPORTANT issues to worry about for my nickel.
Nancy from Tennessee writes:
New York will just be one more state allowing gay marriages that the rest of the country will have to recognize or challenge. When a gay couple resides in a state that does not recognize gay marriage, what marital laws apply to that couple? The laws of the state of residence or the laws where they were married? Complicated issue.
Norah from Ocala, Florida writes:
It shows that New York is throwing off the shackles of the Dark Ages and joining this century, Jack. As a straight, married woman, I truly don't understand the hullabaloo. How can recognizing the legal union of two people in a loving and committed relationship be anything but good? How does it threaten heterosexuals in any way?
Chad from Los Angeles writes:
It means people on both sides of this issue are wasting money on this legislation. There are 100 more important issues going on right now. Is this really a critical issue when we are trying to recover from the worst president in history?
Bill from Jupiter, Florida writes:
Jack, It would finally allow Californians to refer to New Yorkers as "Those Wackos Back East."