FROM CNN's Jack Cafferty:
British parents could soon be fined if their kids act up in school... A new government study across the pond takes a look at different ways to keep children in line in the classroom. It suggests that it's time for parents to "share the responsibility for maintaining discipline."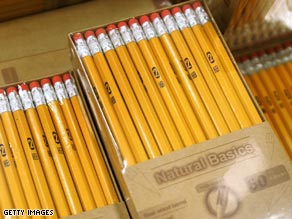 Cafferty: Parents may take more of an interest in disciplining their kids if they have to shell out a few bucks each time they misbehave.
Now there's an idea...
Parents can be fined the equivalent of $75 if their kids are caught in a public place without a good reason within the first five days of being suspended or expelled. The fine doubles if it's not paid within a month. And - parents have to be interviewed by teachers before their child is allowed to return to school.
Schools can also require parents of children who are misbehaving to take parenting classes. If they don't attend, they can be fined up to $1,500.
These guidelines come as teachers warn that existing methods of disciplining students were failing. The Telegraph reports that some schools have been handing out prizes if kids promise to behave - things like plasma screen TVs and iPods - instead of punishing them if they act up.
U.S. schools should pay close attention to how this experiment works. My guess is parents of disruptive little mutants might take more of an interest in disciplining them if they have to shell out a few bucks each time they misbehave. And then the teachers might actually be able to get down to teaching.
Here's my question to you: Is it a good idea to penalize parents if their children misbehave at school?
Interested to know which ones made it on air?
Brian from Chester Springs, Pennsylvania writes:
I'm a big fan of symmetry, so can we take this one step further and award funds collected from the miscreants to the families of children who do behave? That would provide an extra dose of humiliation to those thinking that a little $75 fine is a small price to pay for letting little Johnny express himself freely.
John from San Diego writes:
If my parents had been fined for my poor behavior in school, there would have been hell to pay – for me! It could work.
Mike writes:
That is a stupid idea. It is up to the teachers to maintain discipline. The parents should be notified of any actions taken, but to penalize parents is about as dumb as it gets. The school should be given the authority within reason to punish the kids. That is one of the problems – the schools do not have enough latitude.
Terry writes:
Thank you so much. At long last someone seems to be "getting it." As a classroom teacher, I commend this effort to control behavior in our schools. Parents have been unwilling and school districts refuse to address this issue. Instead, the hallways have become war zones controlled by thugs and misguided students who think they come to school for a handout.
Erica from New York writes:
As a nanny, and former teacher's aide, I know that as good as this sounds, it will not work. No matter what fines or penalties are imposed, you cannot make parents care. Too many of today's parents are stressed out and would rather give the kid what he wants rather than do the right thing.
Dave from Florida writes:
Jack, Thank God! This needs to happen all across society, not just in school! Finally, finally parents are forced to take responsibility for the kids they squeeze out. Like you said, Jack, a "novel" idea.