FROM CNN's Jack Cafferty:
Yet another sign that when economic times are tough, things can get ugly: A new report suggests that right-wing extremism in the U.S. may be on the rise. The Department of Homeland Security says these groups might be using the recession and the election of the country's first African-American president as tools to recruit members.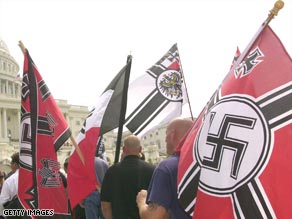 The Department of Homeland Security says membership in extremist groups like this may be increasing.
They say there's "no specific information" on planned violence by domestic right-wing terrorists; but real-estate foreclosures, unemployment and tight credit could all lead to a "fertile recruiting environment." There's even the possibility of confrontations between these groups and government authorities.
The report says many right-wing extremists are antagonistic toward President Obama and his perceived policies on issues like immigration, expanding social programs to minorities and restrictions on owning guns.
It also points to concerns about anti-Semitism, saying some people are blaming the loss of jobs and home foreclosures on a conspiracy planned by a "cabal of Jewish financial elites."
The report cites "lone wolves and small terrorist cells" as the biggest threat - because their low profile makes it hard to catch them before they act.
The Southern Poverty Law Center agrees that President Obama's election may have boosted membership in some groups, but questions the link to the economy.
Meanwhile at least one conservative radio talk show host suggests that this report is meant to step on free speech and First Amendment Rights - which the Department of Homeland Security denies. It's probably worth pointing out that the Obama administration also issued a warning about left-wing extremists in January.
Here's my question to you: What should be done about a potential increase in right-wing extremism?
Interested to know which ones made it on air?