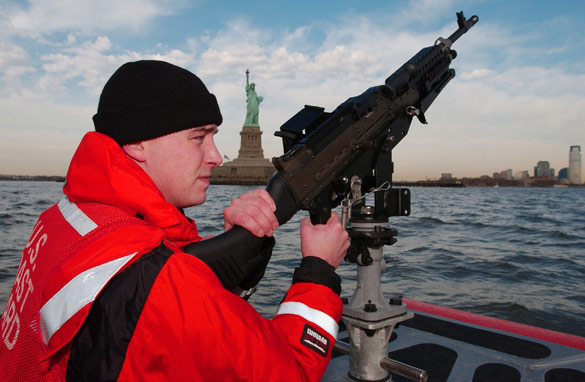 A U.S. Coast Guard machinery technician patrols New York Harbor. (PHOTO CREDIT: Tom Sperduto/U.S. Coast Guard via Getty Images)
FROM CNN's Jack Cafferty:
Most Americans disagree with Dick Cheney when he says President Obama's actions have increased the risk of another U.S. terror attack.
A new CNN-Opinion Research Corporation Poll shows 72 percent of those surveyed disagree that the new president has made the country less safe; only 26 percent agree with Cheney. The poll shows a pretty significant partisan divide; 53 percent of Republicans agree with Cheney while more than 90 percent of Democrats are behind President Obama.
Cheney recently suggested that the Bush administration's anti-terror policies were "absolutely essential" to preventing any further attacks after 9/11. He called it a "great success story" and added that as President Obama rolls back some of those policies, he is increasing the risk of another attack.
The current Vice President, Joe Biden, fired back at Cheney... calling him "dead wrong." Biden insists the country is safer now. He says the Bush administration left the U.S. in a weaker position than we've been at any time since World War II, less respected and stretched more thinly. And, it seems like most Americans are on the same page as Biden when it comes to national security.
Here's my question to you: Is the U.S. less safe under President Obama than it was under President Bush?
Interested to know which ones made it on air?
Bill from Champaign, Illinois writes:
That question is absurd. We were attacked (successfully, I might add) under the less-than-watchful eye of George Bush. Dick Cheney did nothing to prevent those attacks and he has the nerve to criticize the man elected to clean up the Bush/Cheney mess. Dick Cheney should be awaiting trial somewhere, shouldn't he?
Ronnie from Abilene, Texas writes:
We are much safer. Mr. Obama's approach is to take care of the problem. During the pirate standoff, he was precise and surgical. Bush would have responded by invading Peru. Obama's approach is less swagger and more positive implications for long-term safety.
Tom from Libby, Montana writes:
It is already easy to see that we are in trouble with Obama at the helm. He has already shown that we can't count on most things he promised. He will end up leaving our borders open, and it will take a nuke going off and killing perhaps millions of our people before something is done to keep our country safe.
Mark from Houston writes:
When people around the world respect America more and hate America less, how can we be less safe?
Dean from Pennsylvania writes:
I feel we are equally as safe under Obama as we were under Bush, but I do not feel we are, or were, totally safe from another attack. With the borders still wide open and port security very weak, it's a matter of when – not if – we will be attacked again.
Sue from Webster, New York writes:
Yes, we are less safe with Obama. Bush was strong and Obama panders to everyone.
David from Brooklyn writes:
Yes, we are dangerously exposed to bold new ideas, intelligence, and optimism. Hold me, Jack.