FROM CNN's Jack Cafferty:
Minnesota has become a joke - unless you live there and would like your voice represented in the United States Senate. 161 days after the election and they're still trying to figure out who won the senate race between incumbent Republican Norm Coleman and Democrat Al Franken.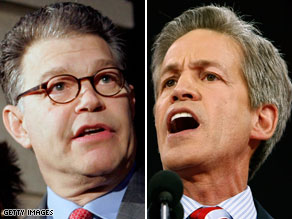 Franken (L) has urged Coleman (R) to let him "get to work as soon as possible."
A three-judge panel has now ruled against Coleman, saying that "Franken is entitled to receive the certificate of election" after defeating Coleman by 312 votes. But it's unlikely that the Minnesota secretary of state will issue that certificate until all legal challenges are exhausted.
I'm exhausted watching this... looks like a Three Stooges movie. Coleman has 10 days to appeal the ruling to the state Supreme Court; and if he loses at the state level, there's always the federal level.
Coleman's lawyer says they'll appeal to the State Supreme Court because the lower court's order "wrongly disenfranchised" thousands of voters. I wonder if they'd be appealing if Coleman had 312 more votes.
Franken says he's confident he'll eventually be certified. He's calling on Coleman not to appeal and to "let me get to work as soon as possible." He added it's time for Minnesota to have 2 senators like every other state.
Minnesota is starting to look like a third world country - the land of 10,000 lakes and a dysfunctional democracy. We send people to monitor elections in foreign countries. Maybe next time we should send some to Minneapolis.
Here's my question to you: What's wrong with Minnesota if 5 1/2 months after the election they still don't know who the winner is?
Interested to know which ones made it on air?
Phil from Washington writes:
There's actually nothing wrong with Minnesota. It's Norm Coleman, you know, the man from the party of "no". Give it up, Coleman, you're toast. Give the Minnesotans a chance to become represented once again. You're a sore loser and should be ashamed of your antics.
Charles from Lawrence, New Jersey writes:
Desperation sums it up. The GOP is treading water in the shark tank with a side of ribs as a life preserver. This is their last chance at obstruction in Congress.
Shane from Boston writes:
Absolutely nothing. That's what democracy is these days. Rather than take the beating you probably deserved in your home state because you weren't a very good senator in the first place, you fight tooth and nail to make sure you don't have to find a real job like the rest of us. Somehow, I'm not sure this is what the framers had in mind 233 years ago.
Tim from Minnesota writes:
Hey Jack, Please don't blame Minnesota, we made our choice for the U.S. Senate and it is Al Franken. Most of the politicos agree that Minnesota has some of the cleanest election laws in the country. Why not take a look at where the money for all of Norm Coleman's legal challenges is coming from? The Republican Party maybe? Or are all of his lawyers doing their work pro bono, for the good of all America? Yeah, right.
John from Wisconsin writes:
Counting isn't exactly Minnesota's best talent. The land of 10,000 lakes actually has 11,842 of them. It's easier for them to count all of their Super Bowl victories.
Jerry from Alpharetta, Georgia writes:
Now I know where those retirees who run Florida's election system came from.
Quentin from New York writes:
Well, politics can be a little like a certain pill. If you're experiencing an election lasting longer than five months, call your courts.