FROM CNN's Jack Cafferty:
"By no means are we out of the woods," said President Obama in a warning to Americans regarding the economy. In a speech today, the president once again talked of "glimmers of hope," yet balanced that by saying there's no doubt that times are still tough.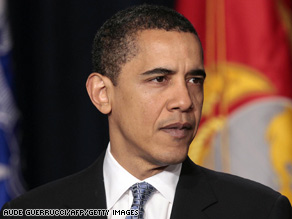 Despite economic woes, the U.S. majority places its trust in the president.
President Obama says a full recovery depends on a new foundation for the economy. He also blamed politics as usual and the media for making the situation worse. Nonetheless, even as President Obama warned that tough economic times and choices lie ahead, it looks like he has a majority of the country behind him.
In fact, Americans place more trust in the president than anyone else when it comes to fixing the economy. A new Gallup poll shows 71 percent of those surveyed have confidence in the president to do or recommend the right thing for the economy. Compare that to 49 percent who have confidence in Federal Reserve Chairman Ben Bernanke; and 47 percent who have confidence in Treasury Secretary Tim Geithner.
We're talking here about people who are specifically tasked with fixing the economy, yet the president rates much higher.
Mr. Obama also kills the Republicans on this issue. A new CNN-Opinion Research Corporation poll shows more than twice as many Americans say the president has a clear plan for solving our economic problems than Republicans in Congress - 58 to 24 percent.
Not even Republicans are confident in Republicans - only 36 percent of them think the party's leadership has a clear plan.
Here's my question to you: How much confidence do you have in President Obama to fix the economy?
Interested to know which ones made it on air?