FROM CNN's Jack Cafferty:
Last week in the Cafferty File we told you about a new Afghan law that legalizes rape. This week's outrage story comes courtesy of another one of our allies in the Mideast, Saudi Arabia - where a judge has refused for a second time to annul a marriage between an eight-year-old girl and a 47-year-old man.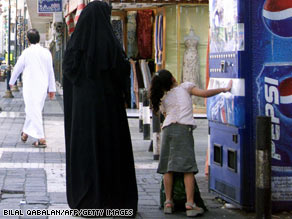 The Saudi girl pictured here (unrelated to this particular news item) buys a soft drink as her mother waits for her in the city of Jeddah.
The same judge rejected a petition back in December from the girl's mother, who was trying to get a divorce for her daughter. A relative of the girl tells CNN that the Saudi judge says he's sticking by his earlier verdict, and that the girl can petition the court for a divorce once she reaches puberty.
The mother's lawyer says that it was the eight-year-old girl's father who arranged the marriage in order to settle his debts with the man. The judge required the girl's husband to sign a pledge that he wouldn't have sex with her until she reaches puberty. Right.
Child marriage is a controversial topic in the Saudi kingdom. Human rights groups have been calling on the government to pass laws that would protect young girls. But the country's top cleric says it's okay for girls as young as 10 to get married.
This stuff is beyond sick. But there isn't much the U.S. can do or say... is there? We're completely dependent on Saudi Arabia's oil. Saudi Arabia - the country that gave us many of the 9/11 hijackers and a place where it's alright for grown men to marry children.
Pretty disgusting.
Here's my question to you: What does it mean when a Saudi judge refuses to annul a marriage between an 8-year-old girl and a 47-year-old man?
Interested to know which ones made it on air?
Linda writes:
How disgusting. Women's rights and even their lives are at risk in those totally backward, cave-dwelling countries. Oh, and by the way, it is done in the name of religion. I know that the Good Lord did not intend for this to happen to children. But, let's just keep buying that oil and bowing to the Saudis and all the other cave dwellers!
Dan from Chantilly, Virginia writes:
This is why we have separation of church and state. When you mix religion and politics, everybody loses. In a perfect world, religion would be a source of morality. In the real world, it's a source of justification for immoral acts.
Ron writes:
It means that the U.S. has no say whatsoever in the affairs of another sovereign nation. We may not like situations like this but it's none of our business. We also don't need to look beyond our borders to find these types of arranged marriages. Have we so soon forgotten about Warren Jeffs and his ranch?
Samir from Florida writes:
As a Muslim, I am disgusted. Muslims keep trying to improve our image with all that is going on, but it is an uphill battle.
Lou writes:
It means that for all our bellyaching about what a mess we are as Americans right now, the truth is we do a lot of things right. Democracy and freedom look pretty good when faced with crazy stories like this one.
Stacy writes:
Maybe Obama should bow to the King a couple of more times and see what we can get!
JD from New Hampshire writes:
If this story doesn't make you want to use solar power, wind power and anything else other than Middle East oil, I don't know what will. It's sick and sad and if we weren't at their mercy for our energy needs we might be able to squawk about it and make a difference. We're as powerless as the little 8-year-old girl.