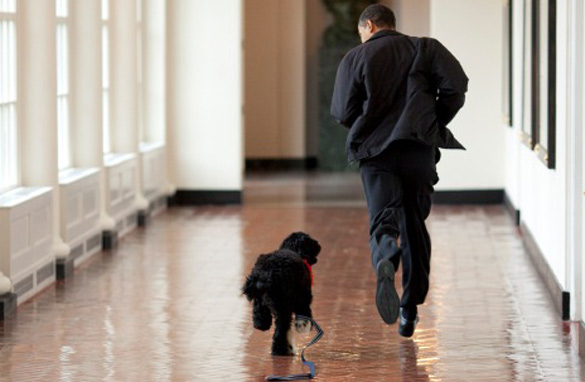 (PHOTO CREDIT: WHITE HOUSE)
FROM CNN's Jack Cafferty:
It may just be the most closely followed campaign promise made by President Obama... we're talking about the puppy he promised his two young daughters. And the media are all worked into a frenzy now that the long-awaited news is officially out...
The Washington Post reported in a front page story yesterday that the Obama girls were getting a six-month-old Portuguese water dog - a gift from Senator Ted Kennedy. The Obama girls named it "Bo." The puppy is due to arrive at the White House tomorrow - although the First Family and "Bo" have already met.
The Post insisted it was supposed to have the exclusive on the story, but word leaked out ahead of time. Several web sites got fired up about the news - with one publishing a photo on Saturday of what it claimed was the new first puppy. The White House called that photo a fake.
We're talking about a puppy here. But it seems like the American people - and by extension the media - can't get enough of the Obamas, especially their personal lives. Where will the girls go to school? What designer is the first lady wearing? Has the president quit smoking?
Nonetheless - it's not like the media don't have enough to focus on... you know, the struggling economy, the wars in Iraq and Afghanistan, the Somali pirate hijacking and on and on.
Here's my question to you: Should the press have better things to do than cover the story of the Obamas' new dog?
Interested to know which ones made it on air?