FROM CNN's Jack Cafferty:
Water shortages threaten two of the world's largest cities and could soon become a reality for many more of us. Mexico City has turned off a main water pipeline, shutting off water to at least 5 million of the area's 20 million residents.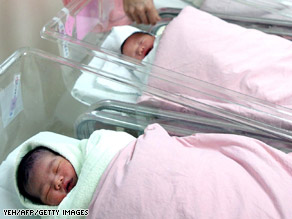 The world's population has tripled over the past eight decades.
Water reserves there have reached historic lows of less than 50 percent thanks to low rainfall totals last year and a leaky infrastructure system. This is the third time just this year the city has temporarily turned off the tap to conserve water.
Then there's Los Angles - where the city council unanimously rejected a plan to ration water. This came despite a drought emergency directive by Governor Arnold Schwarzenegger to cut water use 20 percent this year. If the city fails to take action, the agency that supplies most of the water could impose rationing.
And as a UPI piece points out - this problem reaches much further than just Mexico City or Los Angeles... Beijing has a serious water shortage; the Israelis and Palestinians are fighting over control of key aquifers; and many U.S. cities could face water shortages in the next five to 10 years because one key aquifer in the Midwest has been hugely depleted.
There's no question that water shortages can also be traced to the world's exploding population which is now at six-point-eight billion people - more than three times what it was 80 years ago. This rapidly increasing growth seems to be putting an unsustainable demand on resources like water and the environment, and will eventually begin to create shortages of food.
Here's my question to you: What's the answer to the world's exploding population?
Interested to know which ones made it on air?
James from Chuckey, Tennessee writes:
You've pointed out the answer: When we run out of safe, clean water, we'll stop reproducing as if we were still living in the dark ages and had no means to prevent pregnancy. Then we'll watch disease, famine, and violence return us to the dark ages.
Marie from Ontario writes:
First step would be to get rid of all the religious wackos who are against birth control and sex education and continue to preach to their faithful how it is a sin to embrace these practices.
Scott from Wichita writes:
2 kid limit: replace you and your spouse. Make taxes significantly higher for more than 2 kids, on the order of 80-90% increase per child, unless there are outside circumstances (terminal illness, etc.) Would definitely put a damper on Octomom's fame... does anyone really care about her?
Kevin writes:
Unfortunately, the only true answer is war. Although we can increase efficiency to support more people, there are limits. When we get to the point where there's not enough to go around, people are going to kill for resources. People will die until there are enough resources to go around again.
Jeremiah from Detroit writes:
The only answer to this question is simple: run out of enough non-renewable resources and then we'll all drop off. It has always amazed me that we put fresh clean water on our lawns just so it looks "green" when we have droughts, or the fact that we built up huge cities in the middle of deserts. We are our worst enemies.
John from Effort, Pennsylvania writes:
We need to educate people on a massive scale about proper socially acceptable birth control methods. The exploding world population is a sad result of "mass ignorance" and mass ignorance will mitigate our fall as a species.