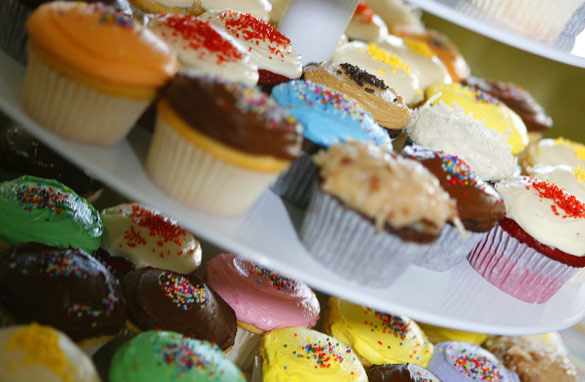 (PHOTO CREDIT: GETTY IMAGES)
FROM CNN's Jack Cafferty:
When it comes to their health, some American children have already lost. A new study shows almost one in fibe four-year-olds is obese. It's a startling number that suggests many children are doomed before they're even faced with soda and candy, donuts and French fries.
And certain ethnic groups are at higher risk than others. Just 13 percent of Asian pre-schoolers are obese compared to 16 percent of whites, almost 21 percent of blacks, 22 percent of Hispanics and a whopping 31 percent of American Indians. This government study focused on more than 8,500 preschoolers born in 2001.
Researchers suggest that some factors that can increase obesity risks are more common among minorities - things like poverty, less-educated parents, less emphasis on exercise and diets high in fat and calories.
The medical prognosis is not good: Obese children are more likely to develop high blood pressure, heart disease, stroke, diabetes, etc. In fact, diseases commonly seen in 40 or 50-year-olds are now showing up in kids as young as six. Things like type 2 diabetes, fatty liver disease, and muscular and skeletal problems.
What can parents do? Doctors recommend children eat at least five servings of fruits and vegetables a day, reduce television time down to two hours or less, exercise at least one hour, and consume no soda or sugary drinks. Fine - but with the number of obese adults in this country, it's not exactly like we're long on good role models.
Here's my question to you: What does the future hold for this nation's children if almost 20 percent of four-year-olds are obese?
Interested to know which ones made it on air?
Portia from Los Angeles writes:
It's not looking good, Jack! I work for a large non-profit organization dedicated to disease prevention, and let me tell you the number of overweight children is down-right frightening. If parents, the government, the education system, and the healthcare system don't start working collaboratively to combat this problem, we as Americans will literally "super size" our way to extinction.
Cori writes:
It's no wonder kids are obese, the cost of healthy food is outrageous. I can barely afford to buy healthy food for myself. And kids today are lazy. Who wants to exercise if you have cool video games, movies, and pizza to accompany you during your entertainment?
Kevin from Franklin, Tennessee writes:
Jack, People have got to take care of their children. Take away the Pop-Tarts, Fruit Roll-Ups, juice boxes, candy, McDonald's Happy Meals, everything. Let them embarrass you at the grocery store.
Linda writes:
I teach elementary school and "soda and candy, donuts and French fries" seem to be a part of most preschoolers' diets. Parents send children to school with a packed lunch including the four food groups: processed meat sandwich on white bread, salty snack, dessert and soda. Children often have snacks for breakfast and headaches by 10am. An ongoing massive public education effort is needed, the scarier the better.
Amanda writes:
How can we expect children to grow up to live healthy lives on their own if we as parents do not lead by example and start them off on the right foot? Schools need to play a much larger role in the introduction of healthy living to our children because it is obvious parents are not doing the job. Nutrition information and healthy school meals need to be put in place. Our society just can't say no to our children and that is our problem.