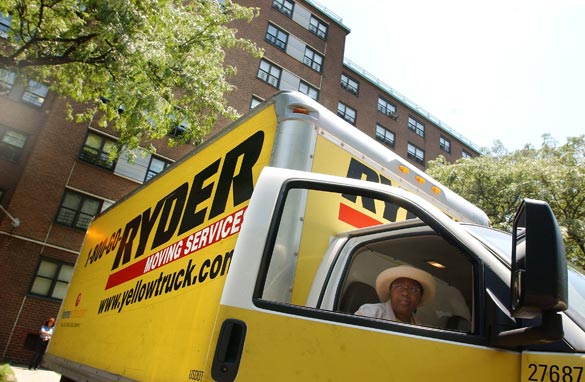 (PHOTO CREDIT: GETTY IMAGES)
FROM CNN's Jack Cafferty:
As millions of Americans pound the pavement looking for work, turns out they may have better luck finding a job in certain parts of the country than others.
No doubt the national unemployment situation remains bleak - with more than five million people losing their jobs since the beginning of 2008. Last month the unemployment rate jumped to 8.5 percent, the highest in 25 years.
But the Bureau of Labor Statistics shows that some places are faring better when it comes to jobs. A study of 372 metropolitan regions shows that 20 areas had unemployment rates below five percent in February: including Ames, Iowa; Manhattan, Kansas; Lincoln, Nebraska; Lubbock, Texas and Lafayette Louisiana.
A Harvard economics professor describes how some places can weather an economic downturn better because of specific characteristics of that area. For example, he finds a strong correlation between a skilled workforce and lower unemployment. Research shows the higher the level of education in an area, the lower the unemployment rate. Also - there's a link between unemployment and manufacturing - which is why old industrial cities like Detroit or Youngstown, Ohio have double-digit jobless rates.
Of course, not everyone can simply pick up and move for a job. Family considerations or being locked into a house you can't sell can often keep people in a certain geographical area. But if you're mobile, there are some opportunities out there.
Here's my question to you: Are you willing to relocate in order to find work?
Interested to know which ones made it on air?
Bill writes:
Jack, Three years ago, I left Ohio, where there is little or no work and moved to Charlotte, NC for a job. Last month, I lost my job in Charlotte. If someone can tell me where there is secure, stable work (I thought I had it in Charlotte) I would be willing to move again.
Steve writes:
Jack, When I was out of work years ago, I traveled across country to provide for my family. I lived in a camper for 5 years to do it. All too often I have seen people whining about not having a job because they are not willing to take the next step to get one.
Melissa from Yorba Linda, California writes:
If it pays, it plays! I am actually looking to relocate from Yorba Linda, CA to Washington DC/Northern Virginia. Anybody got a job for me?
Bob writes:
I live in Michigan. Enough said.
Tony from Illinois writes:
Jack, Picking up and moving just to try and find a job in this economy is nuts. The only way I would is if I found a job there first and then made plans for the move. Gambling for a job in this manner is like going to Vegas and betting it all on one number.
Randy writes:
I am. It's either I relocate to wherever the job is or relocate to a tent city.
M. writes:
Yes, I am. I have been unemployed for 7 months and work in the IT field. After scanning numerous job boards on a daily basis, it's very clear to me that there are presently stronger job markets for my type of work. I'm currently looking in Washington, DC, New York and California. I own a home. But, I will not let that stop me. I cannot be unemployed any longer. I am under water.
Kelly from Buffalo, New York writes:
I'm from Buffalo, why would I move anywhere else? Best place in the world to live.