FROM CNN's Jack Cafferty:
During his first visit to a Muslim nation as president, Barack Obama declared that the U.S. "is not and will never be at war with Islam."
The president addressed the Turkish Parliament and called for a greater partnership with the Islamic world.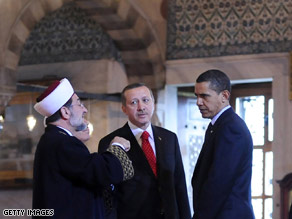 President Obama and Turkish Prime Minister Recep Tayyip Erdogan tour the Blue Mosque in Istanbul.
He also focused on building a stronger bond between Americans and Muslims; and portraying terrorist groups like al Qaeda as extremists who don't represent the majority of Muslims. President Obama talked about listening to each other, respecting each other, and showing our "deep appreciation for the Islamic faith."
No doubt Mr. Obama has his work cut out for him when it comes to mending fences with the Muslim world. Many Muslims grew to disrespect if not downright hate the U.S. after President Bush ordered the invasion of Iraq. Many also felt the entire Muslim world had been unfairly blamed by the U.S. for the 9/11 attacks - which were carried out by Muslims.
And - President Obama may also have a lot of convincing to do here at home. A new CNN-Opinion Research Corporation poll shows 51 percent of Americans say the U.S. should trust Muslim allies, like Turkey, the same as any other ally, but 48 percent say the U.S. should trust Muslim allies less.
Mr. Obama called Turkey a "critical ally," and strategically that's true. But when it comes to the issue of trusting Muslim allies, almost half of Americans remain wary.
Here's my question to you: Should the U.S. trust Muslim allies less than other allies?
Interested to know which ones made it on air?
Melody from Harbor Springs, Michigan writes:
Of course Muslims can be trusted as much as any ally. Who can't be trusted are individuals who are extremists and completely intolerant of other people's beliefs - and that includes people and religions right here in the United States. Good for President Obama for assuring the Muslim community that we want to be an ally.
Michael from Albuquerque writes:
Not less, but differently. Muslim nations are mostly undemocratic, religiously bigoted and hostile towards our values. We cannot expect to have the sort of relationship with them as we might expect from European nations. They are different. No amount of politically correct language will alter that.
Rob writes:
The worldwide reputation of the United States is under repair. President Obama is the chief surgeon. He must extend an open hand to Muslim allies while maintaining a tight grip with the other hand on all other allied relationships. Rhetoric starts the process, but increased trust will be earned with deeds.
J. from Georgia writes:
I just hark back to the source of the chant "death to America." Anyone chanting death to my country will not get my trust. Ever. I don't care if they are Muslim or Baptist or vegetarians. You tell me you want death to my country, you get my scorn. Want my trust? Earn it.
Tim from Texas writes:
Our allies should be trusted based on their track record of trust worthiness. Obama is correct in saying that terrorist groups do not represent the majority of Muslims. Think about it this way: Men commit 99% of violent crimes, but it would be kind of stupid, based on this, to think that all men are violent. You and Wolf don't strike me as being violent.