FROM CNN's Jack Cafferty:
Airline travel may be improving; and that's a good thing because it couldn't have gotten much worse. A private study based on government statistics found the rates of lost bags, late arrivals, passengers bumped from overbooked flights, and consumer complaints all declined in 2008; and the industry actually had its best overall performance in the ratings in 4 years.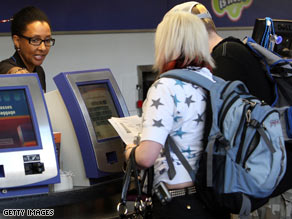 Half of all complaints involved baggage or flight problems like cancellations or delays. And the average on-time performance was three percentage points better than 2007; although almost a quarter of all flights were still late.
One expert says the improved performance isn't surprising because 2007 was the worst year for airlines in the study. It's believed that in 2007, the air transport system had reached capacity with 770 million travelers. Last year, that number was down to 741 million and airlines are reporting weak demand for the first quarter of this year.
But even if airline travel is improving, there are still issues. High fuel costs and a sluggish economy forced many airlines to reduce schedules, raise ticket prices, and tack on fees for everything from luggage to pillows.
The most outrageous fee probably comes courtesy of Ryanair - the CEO of the Dublin-based airline wants to charge passengers to use the toilet in-flight. He's asked engineers at Boeing to design toilets with doors that open only if you swipe a credit card. He'll change his mind when people start going in the aisles.
Here's my question to you: Has airline travel become a more pleasant experience lately?
Interested to know which ones made it on air?
Keith from Ohio writes:
Jack, I took several cross-country trips by Greyhound bus before I ever flew anywhere. Once you've spent 50 or 55 hours on the 'big silver dog,' it's hard to get too upset about inconveniences in the air. If I can have a late lunch on one side of the country, and dinner on the other side, I'll put up with a little hassle along the way.
Willie from Weston, Florida writes:
Jack. Yes, airlines are as pleasant as getting fondled by porcupines: the absurd security, the ridiculous waits on lines, the endless bureaucracy and the love affair between stupidity and lack of creativity makes it a portrait of comfort and desirability.
Theresa from Atlanta writes:
Are you nuts!? No other industry in this country can legally take your money, give you a ticket and then turn you away at the door because they sold your seat to someone else.
Lynn from Columbia, Missouri writes:
No. People are just getting more resigned to the way it is.
Patricia from Boise writes:
As seldom as I can afford to fly, I don't have a lot of data to go on, but I do know one thing: Compared to the cross-country road trips with my small children in a station wagon with no AC (it was a frill then, remember?), flying rocks - luggage fees and all.
Noel from New Hampshire writes:
Jack, As a 60,000 mile-a-year or more frequent flier, I find it really hard to use "pleasant" and "commercial air travel" in a positively worded sentence. My approach is to assume I'm going to be delayed, lied to, mistreated, re-routed, stranded, have my bags sent to Mozambique, and have most of the trip go wrong. This way I'm never disappointed, find it hard to get stressed out, and am occasionally pleasantly surprised.
Mike from Florida writes:
I suppose it depends on whether I'm flying to or from Buffalo!