FROM CNN's Jack Cafferty:
It's springtime, and if you look really hard you might see some little signs of recovery trying to burst forth along with the daffodils. Despite taking a tumble today, stocks have pretty much been on a tear lately.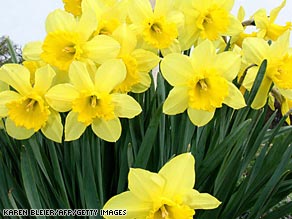 After hitting 12 year lows, the major indexes have risen for four straight weeks, with the Dow jumping more than 21 percent for its best four week run since the 1930s. It looks like Wall Street is hopeful that the economy and the financial sector are closer to stabilizing.
A key jobs report out Friday showed unemployment soared to 8.5 percent last month; but markets seemed comforted that the numbers came in as expected.
Meanwhile, there have been other glimmers of positive news on the economic front. For starters, we don't seem to be hearing about more massive layoffs every week like we were a couple months back. And, when it comes to real estate, existing home sales rose 5.1 percent in February, the largest increase in nearly six years.
Mortgage applications are also way up, jumping 30 percent one week in March, with most of these applications for people refinancing their homes. Mortgage giant Fannie Mae says its refinancing volume nearly doubled last month; and expects that number to keep growing. One official there says the results were encouraging and that expanding refinancing options is "a critical part of preventing future foreclosures and hastening recovery."
Here's my question to you: When it comes to the economy, do you believe the worst is over?
Interested to know which ones made it on air?
Jane writes:
I am feeling better about the economy. My husband and I have started, yet again, a company and things are starting to look up! More orders, slowly but surely. It's not easy out there, but I keep saying over and over in my head, "We will be successful, we will be successful." And so it goes! I'm sleeping just a little better most nights!
Kenneth writes:
Maybe for us. Not for our kid and grandkids. They're going to pay for the Obama spend and tax bills at higher rates than we have. And they'll pay and pay and pay.
Lou writes:
The worst will be over when the great and all knowing media tells us it is. You will know by the signs: Ratings begin to drop when people get sick of the non-stop coverage. Suddenly, the crisis will begin to wane, people will stop being so scared by the sky-is-falling media, and we'll all feel like going shopping again.
Michael from Cleveland writes:
Are you kidding? I don't think that we are going to hit bottom until late this year or early next year. Then, I think that we are going to flounder on the bottom for a while. There might be slight movement up, but nothing significant. I think that we won't see any real recovery until spring or early summer of 2010, IF we are lucky!
T. writes:
I'm not an economist by any means, but March has already shown us signs of improvement. I think (and pray) that we've already hit rock bottom. I truly believe that things will turn around dramatically sooner than we all anticipated. Wouldn't that get the GOP's panties in bunches?
AJ writes:
I have my fingers and eyes crossed, hoping that is true. Hey, Jack, you look better with my eyes crossed!
CH writes:
I think the worst is over. I look forward to Fox News explaining why.