FROM CNN's Jack Cafferty:
President Barack Obama has the biggest partisan gap in his early job approval rating of any president in the last 40 years. A new Pew Research Center poll shows 88 percent of Democrats approve of the president; but only 27 percent of Republicans think he's getting it done. That's a stunning 61 point gap.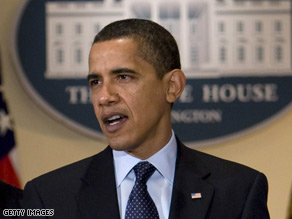 Even George W. Bush only had a 51 point partisan gap early in his administration. Of course that was before 9/11 and the phony reasons for invading Iraq. President Clinton had a 45 point gap.
Researchers suggest this growing partisan divide is part of a long-term trend. Looking at early approval ratings for Jimmy Carter and Richard Nixon, a majority of Republicans actually approved of Carter's job performance; and a majority of Democrats backed Nixon at similar points in their first terms.
When it comes to President Obama, the partisan gap is especially curious since this is someone who won the election by forming a coalition of voters from across the spectrum. Then-candidate Obama promised to bring a post-partisan brand of politics to Washington; and since his inauguration, the president has made an effort to reach out to Republicans in Congress - meeting with them privately about the economic stimulus bill, inviting them to a White House Super Bowl party, and including them in various on camera meetings at the White House. But apparently it's not working.
Here's my question to you: What happened to the idea of bipartisanship?
Interested to know which ones made it on air?
Daniel from Indiana writes:
It doesn't exist in America at the present and probably won't for a generation or two. The Republican Party still believes in the Bush technique of you're either with me or against me. They have no desire to compromise, even if it costs them another election. We are a nation of extremes and the hatred is very apparent.
Chris from Buffalo, New York writes:
After we elected the most radical left-wing president in our nation's history, why should we be surprised that there is a lack of bi-partisanship in Washington today? Bush, Clinton, Carter, Nixon...these men were all middle of the road moderates compared with the way Mr. Obama has been governing during his first two and a half months in office.
Lisa from Georgia writes:
Jack, Bipartisanship died when the Republicans didn't win the election. They are selfish people that will let America fall because of their divisiveness. They must remember "we the people" have woken up and it will be a long, long time before they take office again... if their party survives the downhill spiral it is already on.
Diana from San Miguel Allende, Mexico writes:
Since Rush Limbaugh has become the spokesman for the party of Hoover, I would say that bipartisanship is in the toilet.
Alex from Miami writes:
Bipartisanship seems to have gone the way of the rest of Obama's campaign promises. He's brought in all the same old politicians both from Chicago and the Clinton administration. He has been as partisan as he was in the Senate. I see neither hope nor change in his presidency thus far.
Sharon writes:
What happened? The GOP thinks bipartisanship means "You give us whatever we want and you can have what's left." And it was Republican Grover Norquist, Bush's so-called "field marshal" who famously called bipartisanship "date rape." That should tell you all you need to know.