FROM CNN's Jack Cafferty:
When it comes to North Korea's missile launch, Newt Gingrich says he would have disabled the long-range missile before it ever left the launch pad. The Former House Speaker says too many people "do not appreciate the scale of the threat that is evolving on the planet."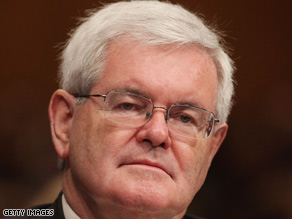 Gingrich says he hasn't seen the UN do anything effective with either Iran or N. Korea.
He adds that he hasn't seen the United Nations do anything effective with either Iran or North Korea. And he's right about that.
But the UN is the route that President Obama is taking. The State Department called the launch a "provocative act" in violation of a 2006 Security Council resolution; and said North Korea's action "merits a clear, strong response" in the form of another council resolution.
However, an emergency meeting of the Security Council ended yesterday without any official reaction to North Korea. And many U.N. security council resolutions in the past have proved not to be worth the paper they're written on.
Gingrich isn't the only one questioning if the Democratic administration is tough enough on national security. While the White House insists North Korea's missile launch shows the importance of President Obama's call for "a world without nuclear weapons," critics say that's an unrealistic and dangerous position.
John Bolton, former Ambassador to the UN under President Bush, describes president Obama's no nukes call as "otherworldly." Bolton says the threat of the Security Council has no real impact on countries like North Korea and Iran. Gingrich also called the president's plan for a Global Summit on Nuclear Security "a wonderful fantasy idea," saying Russia and other nations can't be trusted.
Meanwhile, the White House is pushing back against accusations of appearing weak, suggesting that the Bush administration's tough talk toward both Iran and North Korea proved ineffective.
Here's my question to you: Newt Gingrich says he would have disabled North Korea's missile. Is that what the U.S. should have done?
Interested to know which ones made it on air?
Eric writes:
North Korea is a rogue nation under the control by an insane dictator. The missile launch was nothing less than Kim Jong Il flipping the bird to the world. Anyone with any sense knows this. I am not a Newt fan, but he's probably correct.
Bruce writes:
Gingrich's comments are not at all surprising and are as dangerous as they are fool-hearted. Obama's attempt to work through the UN is not the end of the process; it is an attempt to restart a process that has been off track for eight years.
Steve writes:
It's funny that now they are not in power, the GOP seems to have all the answers to what ails the world. Now that Forrest Gump and Darth Vader are no longer relevant, it seems that all the right wing pundits have the answers.
Paul from Columbia, South Carolina writes:
In the past, America has been called a 'paper tiger'. We just proved it by condemning and then doing nothing. Shameful. The cowards are in charge now.
Wendell writes:
Yes, we should have stopped it. It's too late now. We drew a line in the sand and we allowed them to cross it. It's like a child you keep threatening to spank but never do. Some day soon the world will have wished it had used a firm hand.
Rocky writes:
If old Newt would have gotten his way, all it would have done is stir up a hornet's nest that South Korea would have to deal with. And that would have put us into another war.
JT from New York writes:
We should buy Newt a plane ticket to Pyongyang and let him do his thing. If he succeeds, we'll buy him a plane ticket back.