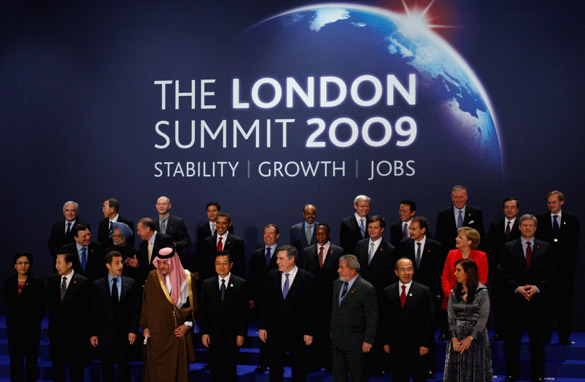 World leaders pose for a group photo at the G20 summit today in London, England.(PHOTO CREDIT: JEFF J. MITCHELL/GETTY IMAGES)
FROM CNN's Jack Cafferty:
There's a distinct possibility that the G-20 summit under way in London will amount to a whole lot of nothing when all's said and done.
As Robin Oakley suggests on CNN.com, there's little chance it can prove to be anything more than "group therapy for a bunch of fingernail gnawing, troubled individuals."
He points out this meeting comes at a time when much of the public around the world is fed up with government in general and has little faith in its ability to solve this economic mess.
If the politicians fail to come up with an agreement - and you can bet they will - it will likely further reduce any remaining confidence in the world's top economies. And, even if they do agree, it probably won't make much of a difference seeing as the G-20 doesn't have a permanent secretariat to enforce anything. As for the meetings themselves, they could just as easily be held using satellite technology and teleconferencing.
Meanwhile, the city of London is tied in knots. The streets are filled with angry mobs, which is costing British taxpayers a small fortune in security, police protection, etc.
Not to mention the costs incurred by all the countries sending heads of state from near and far to attend. President Obama has more than 500 officials and staff with him, including Secret Service, plus all the stuff that has to travel with the president when he goes overseas - Marine One, limousines and on and on.
And when they all get there they spend most of their time meeting and posturing and issuing press releases and posing for photographs and TV cameras - and then they go home. And little or nothing of substance has really been accomplished.
Here's my question to you: When it comes to the G-20 summit, what's the point?
Interested to know which ones made it on air?
Buster from Poughkeepsie, New York writes:
The G-20 summit is basically a duality of control and chaos. Inside the Inner Sanctum, it represents a posh prom party for the planet's most popular people. Outside the gates and the multiple layers of security, it's basically an excuse for lowlife hooligans to smash things and get on TV. And on either side of the fence there's the media doing what it does best... making a proverbial mountain out of a mole hill. And that's it from London, back to you Jack.
Jayne writes:
You think getting the Russians to reopen nuclear disarmament talks is a waste of time? I don't. All kinds of contacts are being made behind the scenes that we don't know about and it's a great opportunity for us to rebuild our image in the world.
Michael from Cleveland writes:
The point of the G-20 summit is to allow the politicians to appear to be doing something about the global crisis, when in fact, they haven't got a clue. And you can't blame them. Nobody has a clue. The world had never seen this type of perfect storm before.
Ron from San Diego writes:
Hi Jack. It's so all the upper socialites of the world could get together, smoke cigars, sip 100-year-old brandy, and brag about their accomplishments. What other reason would they go? I doubt fixing the world economy is front and center. Although that is what they want all of us to think.
Gary from El Centro, California writes:
Besides the obvious photo opportunities, it gives the leaders of the world a chance to "network" and get to know each other better. It is easier to get on the phone and work out a problem with someone if you have a personal relationship at some level with that person. Very little gets done of a substantive nature at these types of events, but they do lay the groundwork for future cooperation.
Arlene from Illinois writes:
Looks like spring break for our world leaders! Only without the booze and broads.