FROM CNN's Jack Cafferty:
The U.S. has some serious thinking to do when it comes to that democracy we're supporting in Afghanistan. Almost eight years after we booted out the Taliban, the U.S. backed President, Hamid Karzai, has reportedly signed a law which critics say legalizes rape.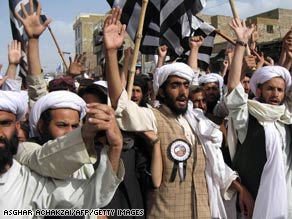 A new Afghan law makes it legal for men to rape their wives.
Human rights groups and some Afghan lawmakers say the law legalizes the rape of a wife by her husband by not allowing her to refuse sex, and prevents women from leaving the house without a man's permission.
One legislator doesn't even remember the parliament debating or voting on the law - but the law it is.
Karzai hasn't commented on the law yet, but critics say he only signed this legislation for political purposes as a nod to Shia clerics in the country who control about 20 percent of the votes. Karzai is up for re-election in a few months. And they worry laws like these could erase any gains made for womens rights since the Taliban left power.
Meanwhile Secretary of State Hillary Clinton now says the U.S. is backing Afghan plans to hold talks with moderate Taliban members. Clinton says moderate factions of the Taliban should be offered "an honorable form of reconciliation and reintegration into a peaceful society if they are willing to abandon violence, break with al Qaeda and support the constitution."
Presumably, they would also renounce raping their wives.
The question remains if there's anyone "moderate" in those parts worth talking to when the official government can pass these kinds of laws.
Here's my question to you: In light of a new Afghan law that might legalize rape, should the U.S. be backing talks with moderate Taliban?
Interested to know which ones made it on air?
Lama from Boston writes:
If Karzai is willing to sacrifice the rights of women and young girls in order to get re-elected, then we better start expanding our talks with other leaders. We cannot send a message that we support this action or him.
Mike writes:
How low should the civilized world go to tolerate such evil and allow such atrocity? Do human rights mean nothing anymore? The best I can think of is pulling every woman and child out of Afghanistan and relocating them with a new identity away from Islam. Some areas of the world controlled by such monsters should be declared unfit for human habitation.
Dave writes:
It is not our place to tell other folks how to live! Yes, this is wrong in our eyes, but it was not that many years ago that a man in the U.S. could have never been arrested and prosecuted for the same crime.
Stephanie writes:
In light of the Afghan law legalizing rape, we should pack up and walk out. There's no longer anything there worth saving. Let the Taliban come back, throw up a physical and diplomatic wall around the country, cut off travel to and from, and let them starve.
Joe from Delaware writes:
If we can get some Taliban to work with us to some extent – it could be worthwhile. But we should never lose sight of the fact that they have a Stone Age mentality and no liking for human rights.
Ariana writes:
As an Afghan-American, who loves both of my countries dearly, I believe this is beyond depressing. And of course the U.S. should not be backing talks with "moderate" Taliban. If they defend the rape of any woman, they are certainly not "moderate."