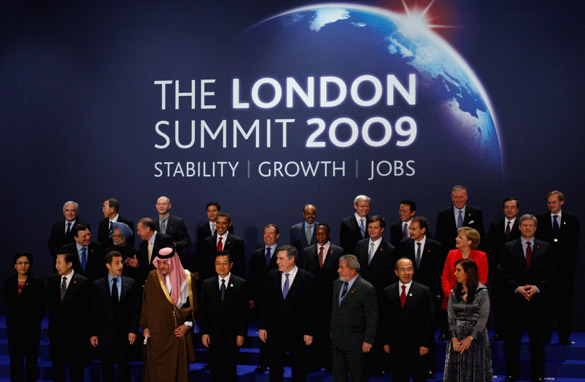 World leaders pose for a group photo at the G20 summit today in London, England.(PHOTO CREDIT: JEFF J. MITCHELL/GETTY IMAGES)
FROM CNN's Jack Cafferty:
There's a distinct possibility that the G-20 summit under way in London will amount to a whole lot of nothing when all's said and done.
As Robin Oakley suggests on CNN.com, there's little chance it can prove to be anything more than "group therapy for a bunch of fingernail gnawing, troubled individuals."
He points out this meeting comes at a time when much of the public around the world is fed up with government in general and has little faith in its ability to solve this economic mess.
If the politicians fail to come up with an agreement - and you can bet they will - it will likely further reduce any remaining confidence in the world's top economies. And, even if they do agree, it probably won't make much of a difference seeing as the G-20 doesn't have a permanent secretariat to enforce anything. As for the meetings themselves, they could just as easily be held using satellite technology and teleconferencing.
Meanwhile, the city of London is tied in knots. The streets are filled with angry mobs, which is costing British taxpayers a small fortune in security, police protection, etc.
Not to mention the costs incurred by all the countries sending heads of state from near and far to attend. President Obama has more than 500 officials and staff with him, including Secret Service, plus all the stuff that has to travel with the president when he goes overseas - Marine One, limousines and on and on.
And when they all get there they spend most of their time meeting and posturing and issuing press releases and posing for photographs and TV cameras - and then they go home. And little or nothing of substance has really been accomplished.
Here's my question to you: When it comes to the G-20 summit, what's the point?
Interested to know which ones made it on air?