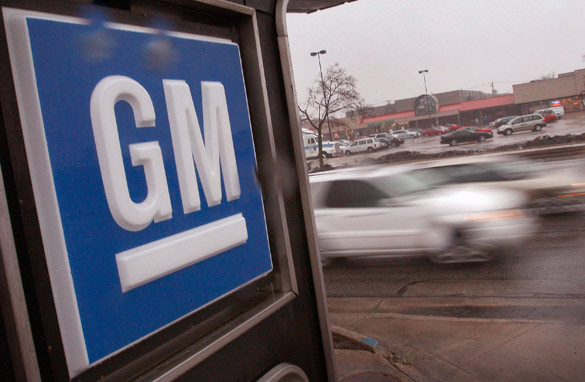 (PHOTO CREDIT: GETTY IMAGES)
FROM CNN's Jack Cafferty:
With President Obama's tough talk for General Motors and Chrysler, a bankruptcy of one or both is now a distinct possibility these days.
If it happens, the ripple effect on the U.S. economy would be serious. Everyone from car owners to dealers, autoworkers, suppliers, lenders - and yes, the American taxpayer would be affected.
The government insists it will stand behind the warranties for new GM and Chrysler cars; but that won't help someone trying to sell a discontinued model. And if either company goes out of business, it could create a shortage of new cars; which would mean it could cost a lot more to buy one.
For Dealerships, bankruptcy could create a problem getting financing to buy the cars they hold in inventory. The government might have to step in here too, forcing taxpayers to dig deeper.
Suppliers could also be in trouble. Only those suppliers which a court determines to be "critical vendors" could get back money. As for investors - forget it. In the case of GM, the shares would become pretty much worthless.
Finally it's possible bankruptcy would cost more than the $21.6 billion the car companies are asking for to stay out of bankruptcy.
Not a pretty situation however you slice it.
Here's my question to you: What would it mean if General Motors or Chrysler or both go bankrupt?
Interested to know which ones made it on air?
Richard from Kansas writes:
It would mean that we let the free market system work. No need for the government to step in here. Let them fail and someone new will come along buy up their assets for pennies on the dollar and do a better job of being a car manufacturer. It's simple capitalistic Darwinism and we should let it work. It might also send a message to the other car companies to get their act together.
Sharon from Rockford, Illinois writes:
I don't think the people really understand just what this is going to do to our country. They can talk about legacy costs but if these companies go away these costs will now be on everyone's backs. I'm a widow of a retired Chrysler worker. I get a whopping $700 a month for the 30 years and 4 surgeries my husband underwent while working there. He died a little over a year from the date he retired.
Carlos from San Diego writes:
The bankruptcy of GM and Chrysler would be progress for hardworking consumers who deserve better cars.
Joanne from Medina, New York writes:
It could be very ugly for the economy if GM goes into bankruptcy. Let's spend the money to try to keep it from happening, whatever it takes.
Zane writes:
Maybe it is time to re-invent personal transportation. Did the horse whip and buggy companies get a government handout in the early 1900s? Bring back the street cars! Sounds like Darwinism at its best.
George from Canada writes:
There's an economically simple yet philosophically complex response to your question of what happens should GM/Chrysler go belly up. To paraphrase an old song lyric: "And the world will be better for this." I've always liked GM's product, but let's get on with a more constructive future instead of beating these two horses beyond death.