FROM CNN's Jack Cafferty:
It looks like the Obama administration is on track to spend about $6 billion over the next five years to expand national community service efforts. Both houses of Congress have now passed legislation that would increase funding for thousands of volunteers in everything from clean energy to health care and education.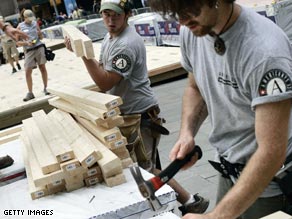 The AmeriCorps volunteers pictured here are seen building a house for hurricane victims.
The president is expected to sign the bill into law soon. Among other things, "The Edward M. Kennedy Serve America Act" would:
● More than triple the number of positions in the AmeriCorps program to 250,000
● Create four new national service corps and other initiatives - including a so-called "Summer of Service" program to increase community service by students
● Create a "Silver Scholars" program which would encourage older Americans to volunteer. They would get a $1,000 reward for putting in 350 hours of service.
● It would also increase the stipend offered to AmeriCorps volunteers
Supporters insist that during a time of economic crisis, we need service and volunteering more than ever. But critics say the bill is fiscally irresponsible in light of our slumping economy. They also say the idea of volunteerism is undermined by paying people to do community service.
Here's my question to you: Is now the right time for the U.S. to spend $6 billion on expanding national community service programs?
Interested to know which ones made it on air?
Doug from New Mexico writes:
Frankly, Jack, all young people should spend time in either the military or a national service program as service to the country. It might make a real difference in attitude while improving oh so many things.
Thom from Negaunee, Michigan writes:
I think it would best be spent on tuition for needy students to go to university. Also, we do not need any more temporary fixes. What is needed is JOBS. Plain and simple. Full time, fair wage and benefit jobs that are permanent and with some hope of making a career out of them. Jack, we do not need pretend jobs for citizens. Especially not at this point in time. Maybe when the economy is booming.
Justin writes:
Now is absolutely the time, and I plan on joining the Summer of Service, as I am a sophomore in high school.
Jane from Wisconsin writes:
This seems like another backdoor way for the Obama administration to funnel money to corrupt groups such as ACORN and the other "community organization" groups who helped to get him elected.
Bob writes:
Entry level jobs are hard to find, so I support programs like this that will teach skills at low cost. This money will come back to us many times over as young people gain the experience they need to better care for themselves. What's more, these programs harness our national pride as ALL ages help rebuild America's infrastructure - for zero salary!
D. from Santa Cruz, California writes:
Absolutely! During the Great Depression, FDR put over 3 million people to work, not volunteering, but making National Parks, etc. I'm a disabled Baby Boomer but I still have a lot to offer. I will answer my country's call in any way I can. We need to stop complaining and roll up our sleeves to get out of this mess!