As states try to deal with their own massive deficits, many are turning to higher taxes on the rich as the answer. A proposal here in New York would follow in the steps of California and Maryland in pushing the wealthiest into higher tax brackets - several percentage points above most workers.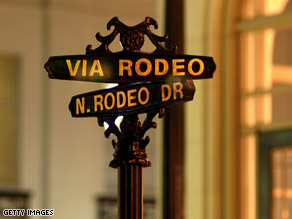 New Jersey is considering raising its highest bracket to more that 10 percent from the current five-plus percent. And Wisconsin and Delaware are also considering higher tax brackets.
The head of one political group that supports the higher taxes tells the Wall Street Journal, "Most people are treading water. Others are drowning. That gave politicians the courage to say the rich have to pay their fair share."
But critics say the higher taxes wouldn't only affect those in the financial industry. They say small-business owners are concerned, since a lot of them report their business earnings on their personal income-tax returns.
And the libertarian Cato Institute found that higher taxes hurt economic growth, and the places that imposed an income tax to generate revenue ended up with poorer growth rates than places that used other kinds of taxes.
Meanwhile - where is the talk in these states of cutting spending, firing government workers, consolidating services, etc.? It's practically nowhere to be seen. The plans seem to be mostly tax wealthy people more and more and leave the government bureaucracy as it is. Morons.
Here's my question to you: Is raising taxes on the highest earners the best way for states to deal with their deficits?
Interested to know which ones made it on air?
Paul from Phoenix writes:
Jack, Raising taxes on the upper class is a way for the states (and Congress on the federal level) to use class warfare, which leads to public outrage, to cover their own inability to create a budget and manage that budget. In short, no, raising taxes is a cop-out for the government.
Ryan writes:
Redistributing the wealth of the rich will not create the kind of new economy that Obama envisions for America. Having successful individuals give more money to the states will only limit discretionary spending and stifle small business expansion - two things that the economy desperately needs.
Ruth from Indianapolis writes:
Yes, raise taxes on the rich. Conservatives call this socialism. It's not. It's merely a correction for a little of the skewed distribution of wealth in this country.
Mitchell from Arkansas writes:
No. We can just keep taxing poor people who happen to smoke or drink. In the meantime, drug cartels operate tax-free, because of prohibition.
Ryan writes:
It's called Hauser's Law – raising tax rates never has produced higher government revenues. It only inhibits economic growth, as the wealthy are the primary investors and job creators in this country. Just don't tell the crazy Keynesians running the Obama administration.
Pat from New York writes:
Heck, yes, raise the highest earners' taxes! They can contribute like the little people have been doing. The working class in this country has been taxed to death making us eat bologna and cheese while the rich eat caviar and get bailouts. I say tax them and tax them again and them tax them some more.