FROM CNN's Jack Cafferty:
When then candidate Barack Obama traveled to Europe last summer, he was greeted as a rock star; and there's little reason to think it will be much different this time around. The president has a packed agenda as he heads for an eight day, five country trip that includes critical economic and political talks.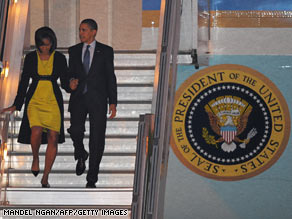 President Obama and his wife Michelle deplane Air Force One near London.
He'll attend a G-20 meeting of the world's major economic powers in London, a NATO summit marking 60 years since the alliance was formed, and international summits on hot topics like Afghanistan and Pakistan. He'll also make his first stop in a Muslim nation - Turkey.
Since becoming president, Mr. Obama has begun to follow through on campaign promises concerning issues near and dear to the hearts of many Europeans; things like global warming, ending the Iraq war and closing Guantanamo Bay Prison Camp.
And polls show Americans are very confident in their new leader as he heads overseas. A new CNN/Opinion Research Corporation survey shows 86 percent of Americans think the president will do a good job representing the U.S. on his trip. And 72 percent say leaders of other countries respect Mr. Obama. Compare that to President George Bush: just after the 9/11 attacks, 49 percent of Americans thought other Countries respected Mr. Bush, and his rating never got any higher than that.
Here's my question to you: As Pres. Obama heads to Europe for the G-20 summit, how has America's position in the world changed?
Interested to know which ones made it on air?
Mariah writes:
Based on history's view, America has only realized its creed of freedom and justice for all a select few times. The Emancipation Proclamation and Civil Rights Movement were a few examples. As the leader in democracy and liberty, America finally has a leader who can back up its promise.
Julia from Newton, New Jersey writes:
I don't think we're out of the woods just yet. It's going to take a lot of time and effort to bring us back to where we once were, but I think President Obama will get us there (or close) just fine by the end of his term.
P.S. Tell Wolf I think his beard looks just fine.
Mari from Salt Lake City, Utah writes:
Finally, we have a president who we can be proud of, one who is articulate and follows the rule of law both at home and internationally. And can speak English!
Ed from Athens, Georgia writes:
The moment that President Obama was sworn in on Jan. 20, America's image in the world changed for the better. My wife and I were Americans in Paris in 2007, but Parisians treated us well. Must have had something to do with the "Impeach Bush" button I was wearing.
Don from Naples, Florida writes:
We are a more bankrupt, morally defunct nation. America's position in the world is declining as is its superpower status. Obama is trying to gain allies for America's fall. Hopefully Obama can gain enough support so the buzzards circling over this nation's head don't devour us in our weakened state.
Mike from California writes:
I think that the world might now see there is intelligent life in the U.S.
John from Houston, Texas writes:
Dear Jack, It's too early to say anything yet. But, just in case, let's keep everybody barefoot over there at the G-20 meeting. We don't need any flying shoes at this point.