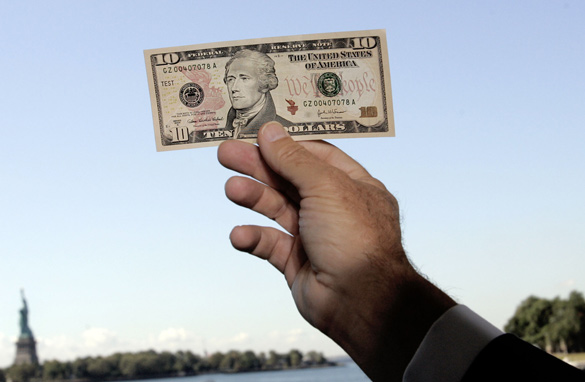 (PHOTO CREDIT: GETTY IMAGES)
FROM CNN's Jack Cafferty:
Millions of Americans will soon start seeing a little extra in their paycheck. It's all part of that massive economic stimulus plan that the president signed into law last month.
President Obama has asked all employers to adjust their payroll systems by tomorrow so eligible workers can start receiving the "Making Work Pay" tax credit in their paychecks.
If paid weekly, single people eligible for the tax credit might get between $10 and $15 per paycheck; and married couples could see $15 to $20. In total, that comes out to as much as $400 a year for single filers and $800 for joint filers.
The full amount will be paid to people making less than $75,000 a year; or $150,000 for couples. There were will also be partial credits for people making more than that; but no more than $95,000 per person or $190,000 per couple. The credit is also refundable, which means that even poor families who don't make enough to pay income tax will still be able to claim it.
$10 or $20 a week isn't AIG bonus money; but for lots of folks it just might make the difference between being able to make that mortgage payment or not next month.
Here's my question to you: How will the stimulus bonus affect your life?
Interested to know which ones made it on air?
Deborah from Blue Springs, Missouri writes:
Ten or twenty dollars extra per week will go straight into the bank so I can begin to put my financial cushion back into place.
Terence from Piscataway, New Jersey writes:
Jack, Let me ask you if this stimulus tax break is going to be a life saver for you? I doubt it. So why ask such a stupid question? You know this tax break doesn't mean a hill of beans to anyone getting it. I can find more money picking coins up off the street.
Fiona from Chicago writes:
Jack, I think it's great that Mr. Obama is taking these measures. Unfortunately, there's no provision being made for freelance workers. I feel it's unfair that those of us who have had to resort to all freelance work are now falling through the cracks of this stimulus benefit, but perhaps the plan isn't thought all the way through yet.
Former govt. employee writes:
It won't. And the way the trend has continued, many people may feel the same way as me. It doesn't matter that a stimulus is added to a paycheck if you don't have a job!
Matt from Kansas writes:
It sounds like what we'll be receiving amounts to roughly what we spend on diapers, Vaseline, and baby wipes for our two one-year-old sons. Every little bit helps when you work in the not-for-profit sector and your salary has been frozen for the past three years.
Monica writes:
This increase will not affect me at all, since my payroll deduction for health insurance is increasing as of April 1.
Camden from Naples, Florida writes:
Well, $400 for this single means I can't do much but it's better than nothing. $15 a week doesn't even cover 4 Lean Cuisine meals!
Marcel from Atlanta writes:
During these tough times, every penny counts. $20 buys 2 days worth of groceries, or (almost) a tank of gas. I'm thankful for the help when we need it most.