FROM CNN's Jack Cafferty:
With more and more Americans out of work - the government is putting up roadblocks for companies that want to hire foreign workers. And that includes higher and lower skilled workers; everyone from dude ranchers and fruit pickers to lifeguards and computer programmers.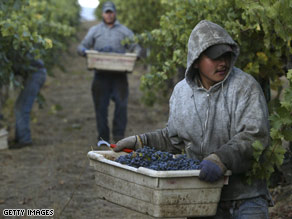 Are there really jobs Americans can't or won't do?
The Wall Street Journal reports that at least three avenues of legal immigration have been cut back. For starters, companies getting federal bailout money must prove they've tried hiring American workers for highly skilled positions before they can hire guest workers.
Also, the State Department is calling on some sponsors of seasonal employers - like hotels, golf resorts and summer camps - to voluntarily stop hiring as many foreign workers. And the Labor Department is considering suspending an agricultural guest worker program.
It's a bit of a sticky situation for the Obama administration - which insists it doesn't want to become protectionist when it comes to goods and services. However, with an 8.1 unemployment rate, there are millions of Americans out of work who don't want to see jobs filled by foreigners.
Critics say it's hypocritical to be protectionist when it comes to hiring practices. One immigration lawyer tells the Journal, "You don't abandon regulations because you have one bad year."
But many seem to finally be questioning the idea that there are certain jobs that Americans can't or won't do. Some employers say they are now getting more U.S. applicants for positions that were normally filled by guest workers; while others say they still can't find Americans who want to do certain jobs.
Here's my question to you: As more Americans lose their jobs, what restrictions should the government place on hiring foreign workers?
Interested to know which ones made it on air?
Mike writes:
Restrictions? How about just not paying them to do it? IBM fires 5,000 Americans and hires 5,000 Indians and then says that they could generate 1 million jobs in 12 months with $30 billion in stimulus funds. Where? Are we really stupid enough to keep bankrolling our demise? I'm a software developer who made over $100K in 2000 and now can't find work for $25 an hour.
Chris from Buffalo, New York writes:
Government regulation is what got us into this mess. What the government should do now is get out of the way, let these business owners hire whomever they choose to hire and let us, the people of this nation, pick ourselves up and out of this recession. Developing a xenophobic attitude will not do one thing to lift us out of this mess we're in.
Molita from Texas writes:
Don't hire guest workers. There is no shortage of labor, just a shortage of livable wages for U.S. citizens doing physical labor. How many white faces do you see at the large growers in CA, FL and TX? Companies that employ green card workers are the problem because they see their bottom line as being less profitable for them. They will scream bloody murder if forced to hire legal citizens at livable wages.
Kevin in Iraq writes:
We cannot simply alienate our legal immigrants who are seeking work in this country. However, it is important to ensure that American applicants are considered first to ensure that our capital is staying here in our economy, where it is needed most.
Pam writes:
Jack, Americans should begin to migrate to other countries where their skills are needed. This is a global economy and Americans have to make adjustments.
Geri from Oklahoma writes:
If we want to continue to see the unemployment rate go up and consumer spending and local, state, and federal revenue plunge, then by all means, we should continue to hire as many foreign guest workers as this country possibly can.