FROM CNN's Jack Cafferty:
President Obama is stepping up the U.S. effort in Afghanistan. He says the U.S. will send 4,000 more troops there in addition to the 17,000 additional combat troops he authorized last month.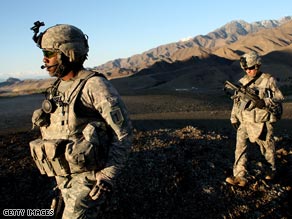 Pres. Obama says the U.S. will send 4,000 more troops to Afghanistan in addition to the 17,000 he authorized last month.
Mr. Obama is describing a "comprehensive" new strategy to confront the growing threat in Afghanistan and Pakistan. Seven and a half years after the 9/11 attacks he says al Qaeda is planning new attacks against the U.S. from its safe haven in Pakistan.
President Obama says up until now Afghanistan has been denied the resources it needs because of the war in Iraq; and he's pledging those 4,000 additional troops to help train the Afghan Army and police - new legislation that would help the economies of both countries; and more civilian help to develop Afghanistan's economy and corrupt government.
As for Pakistan, the president says that after years of mixed results, the U.S. won't provide a "blank check" to them; they'll have to prove they're committed to rooting out al Qaeda.
It seems like Mr. Obama has public support behind him here. A recent CNN/Opinion Research Corporation poll shows 63 percent of those surveyed favor his plan to send an additional 17,000 troops into Afghanistan. However, he also has his work cut out for him: While 62 percent say the U.S. can eventually win the war there, only half that many think the U.S. is winning now.
Here's my question to you: Should the U.S. send additional troops to Afghanistan?
Interested to know which ones made it on air?
Joyce from Kansas City, Missouri writes:
Hell no, Jack, we should stay out of Afghanistan. This is a campaign unlike any other - especially Iraq. History says that several large countries have been brought to their knees in Afghanistan. There are numerous shady factions ruling absent any form of government. We have problems at home and further conflicts will surely bankrupt this country.
Jim from Gardendale, Alabama writes:
Jack, To me the key is: Are we going to continue with our efforts to defeat the Taliban and al Qaeda? If that's the case, then yes, we need to have another surge in Afghanistan just like the one in Iraq. We are weak in numbers there and additional troops are needed.
Rita from Sebastian, Florida writes:
My son just did 15 months there after 2 combat tours in Iraq. His unit is on notice they'll deploy again this fall when his enlistment ends but he may be forced to stay under "stop loss." We've sacrificed enough, those who have already done 2+ tours need to be let go.
Michael from Liverpool, New York writes:
Sure, if they send them from Iraq or from an overseas base like the one in Turkey. We should not send any more troops from here in the U.S. because those troops are needed to deal with the drug cartels in Mexico.
Dennis from North Carolina writes:
Yes, we need to finish what we started and do it correctly so we do not have to go back.
Bill writes:
No, Jack. Enough is enough. It's time to stop being the world's police force and get serious about using our resources (financial and otherwise) to begin solving our problems here at home. Our time to deal with Afghanistan was immediately following 9/11, and we have long since squandered that opportunity. Let's not turn this into another Iraq. The last time I checked, we're still there.