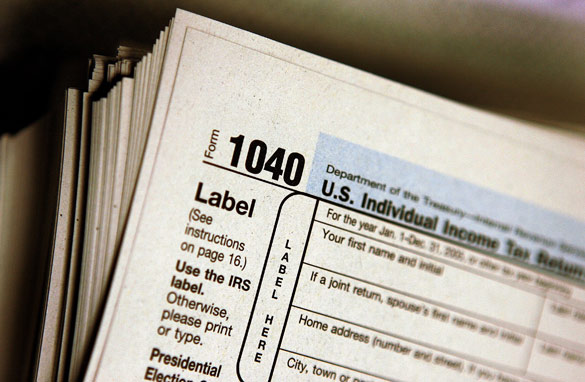 Americans are currently preparing for next month's income tax filing deadline whether using tax software, filing on paper forms or using a tax preparer. (PHOTO CREDIT: GETTY IMAGES)
FROM CNN's Jack Cafferty:
With this year's tax deadline quickly approaching, President Obama is tackling tax reform. He's creating a task force to propose ways to simplify the tax code, reduce evasion, close loopholes and make changes in corporate tax breaks. But, their main goal is to raise revenue.
The task force, headed by former Federal Reserve Chairman Paul Volcker, has only a couple of constraints: President Obama says they can't propose tax increases for 2009 and 2010; and after 2010, they can't propose tax increases on families making less than $250,000.
It's estimated there's a $300 billion a year tax gap - which is the difference between what taxpayers owe and what they actually pay. The biggest reason for this gap is under reporting of income. This isn't always intentional; sometimes it comes from honest mistakes by filers who are confused by a very complex tax code. The group is also expected to suggest ways to simplify different kinds of tax credits.
The tax task force will present its proposals to the president in early December. Then it will be a question of getting Congress to sign off on any changes.
Here's my question to you: What changes would you make to the income tax laws?
Interested to know which ones made it on air?
Anna writes:
That's an easy one.  Set a percentage – say 10%.   Set that percentage for EVERYONE.  No loopholes.  No deductions.  Straight percentage.  No matter what your income, everyone pays the same percentage.  No one should complain.  And the taxes can be collected on a rotating basis.   Like getting a yearly inspection. That way, you always have money coming in.
Jim from Grand Junction, Colorado writes:
Simplification should be the absolute rule in income tax changes. Eliminate all the confusing deductions and percentage rules, etc. Most of the complicated rules favor those who are bending the rules. Simplification favors the low end of the income tax scale and also favors those who can't afford costly accountants who specialize in loopholes.
Bob from Spring Hill, Florida writes:
Changes that should be made include returning to a 39% top tax rate, having hedge fund managers' compensation taxed as regular income instead of being taxed at the 15% capital gains rate, taxing adjusted gross income under $200,000 at a 10% rate and to top it off, remove the income "cap" on wages taxed for Social Security.
S. from Michigan writes:
A flat-rate tax across the board for all and no sales tax on goods. You want to see the economy take off? That's what we need. A one-page tax code.
Stan writes:
I would create a Federal Sales Tax. The benefits are that it would be easy to administer, streamline the IRS, encourage savings, eliminate the underground economy, and be fair to all. Some will argue it penalizes the poor/lower income because they spend 100% of their economy out of necessity. However, the benefits far outweigh the downside.
Kenny from Illinois writes:
Anything over $5 million a year, I would impose a 90% tax on. Simply put, if you can't live on five million each and every year, you're doing something so incredibly stupid you don't deserve that kind of money anyway!