Secretary of State Hillary Clinton says "there will be consequences" if North Korea goes through with a planned missile launch. This comes after North Korea placed a long-range missile on a launch pad, and said they will launch it to send an experimental communications satellite into orbit. But the U.S., Japan and South Korea say it's a cover for testing a Taepodong-2 ballistic missile. The launch could come within a few days.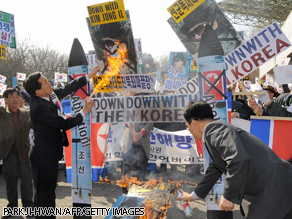 S. Korean activists burn cut out N. Korean missiles and images of Kim Jong-Il. S. Korea has urged N. Korea to drop its nuclear weapon and missile ambitions.
The U.S. says such a test would violate a U.N. Security Council resolution; and that's why the U.S. is warning it would seek punishment through the UN, probably more sanctions, against North Korea. Japan would also press for new sanctions.
But North Korea insists that any more sanctions would make it quit the six party talks and potentially restart a nuclear plant that makes weapons-grade plutonium. If they successfully launch this rocket, it could show they have the technology to send a missile as far as Alaska or Hawaii.
American officials have said the U.S. is capable of shooting down a North Korean missile heading for our soil. But Secretary of State Clinton says the U.S. has no plans to shoot down this particular rocket.
This is President Obama's first big test when it comes to dealing with the regime of Kim Jong-Il - and we may learn a lot about our new president by watching how he responds.
Here's my question to you: What should the U.S. do about North Korea's planned missile launch?
Interested to know which ones made it on air?
John from Marlton, New Jersey writes:
Nothing, that idiot in North Korea is just looking for attention. He knows he is toast if he ever shoots a missile at us.
Ralph from Yakima, Washington writes:
Don't knock it down, but draw a line in the sand. Cross the line, next time it goes down.
Eleanora from Mt. Laurel, N.J. writes:
Let the diplomats take care of this one. We, the people don't know enough. The most important thing we can do is to trust Hillary Clinton. She is quite savvy and has much experience in this field. This is why Pres. Obama chose her as Secretary of State.
Donna writes:
Once again, the U.S. is taking a "wait and see" attitude and we could get a huge reality check down the road. Haven't we had enough of those? I say, shoot the damn thing out of the air and let the Korean Freakieman know we are serious now, not later! The US has gone soft and that is our biggest problem as a people. We've turned into a bunch of soft bellies that our Great Grandfathers would be ashamed of! God help us!
Fred writes:
Let them launch it and promptly shoot it down before it gets through the atmosphere. If we shoot them down a few times, they may be forced to abandon the program due to lack of funds!
John from Houston, Texas writes:
Dear Jack, I think we have enough problems to worry about here in U.S. and we definitely can not afford to expend extra money with another war. Our enemies have learned that the best way to defeat us is bankrupting us. What timing they have, don't you think? Our time being the world's cops is over.
Cody from New Jersey writes:
I honestly don't think it's our problem. Either it fails and we laugh or it succeeds and we throw more sanctions at them.