FROM CNN's Jack Cafferty:
In last night's news conference, President Obama said that his $3.6 trillion budget is "inseparable" from economic recovery. But not everyone would agree with the president on that one. Republicans have been highly critical - with House Minority Leader John Boehner calling Mr. Obama's budget "the most irresponsible piece of legislation" he's ever seen - Boehner is calling for a "do-over."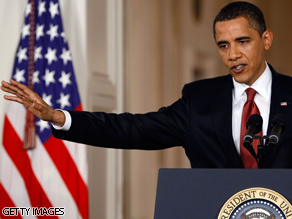 And it's not just Republicans. A group of centrist Democratic senators took the red pen to the president's budget; making hundreds of billions of dollars in cuts. North Dakota Senator Kent Conrad and others have raised concerns about the long-term impact of the president's spending plan on the deficit. Conrad says their version, which saves $608 billion over five5 years, will help reduce the deficit while also maintaining the president's priorities of education, energy and health care.
The plan cuts out money that was set aside for future bank bailouts, provides only a temporary fix for the alternative minimum tax and doesn't account for some major health care and energy initiatives. Republicans were also critical of Conrad's plan; saying it stripped out some items that may have to be funded anyways. Mr. Obama said last night that they never expected Congress "would simply Xerox" his budget and vote on it; and White House officials tried to play down any differences with Democrats, saying they were satisfied with the plans coming out of Congress.
Here's my question to you: When it comes to the budget, should President Obama get what he's asking for?
Interested to know which ones made it on air?
Steve writes:
Let's give President Obama a chance to fix this country. Change doesn't come slowly. It took 8 years for President Bush to mess up this country; maybe it will take another 8 years to turn this country back on the right path. I also like how Obama is spending the money here in our country. All President Bush did was spend money overseas.
Al from Danbury, Connecticut writes:
There is certainly one budget item that the president should not get: He has requested $75 billion for 2009 and $130 billion for 2010 to fund the disasters in Iraq and Afghanistan. While there may be arguments on both sides of a debate over whether we need to press on with these failures, there can be no debate about whether or not we can afford almost an additional quarter of a trillion dollars to continue these wars.
Sandy from Arkansas writes:
Perhaps Pres. Obama will have to do what the majority of us have done regarding our personal budgets: make do with less, which means cutting something. You make choices - cut down the heat, eat lots of dried beans or peas, shop in Thrift Stores or at garage sales, drop insurance or raise deductibles, take a second job, etc. Very few of us can get what we ask for and we are just doing our best to survive.
James from Euless, Texas writes:
The question is not if President Obama gets what HE wants but if the American people get what THEY asked for when they overwhelmingly elected Barack Obama as president.
Mike from Korea writes:
The president should get what the Congress thinks he should get and that's that. The separation of powers is there for a reason.
Bill from Maine writes:
Jack, If we don't give him what he's asking for, we only have ourselves to blame if he doesn't accomplish all that we expect.