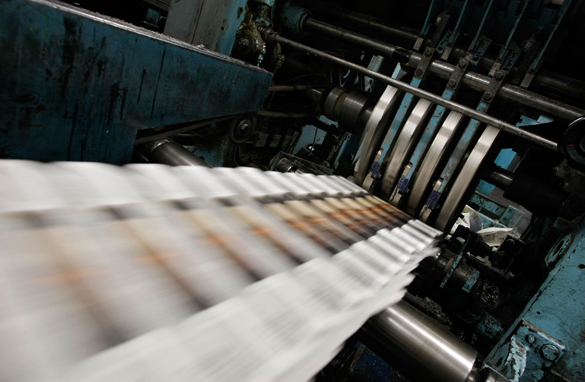 (PHOTO CREDIT: GETTY IMAGES)
FROM CNN's Jack Cafferty:
The government might step in and help rescue the struggling newspaper industry. Democratic Senator Benjamin Cardin has introduced a bill that would allow newspapers to operate like nonprofit organizations - kind of like public broadcasting stations.
The "Newspaper Revitalization Act" would let newspapers choose a tax-exempt status; they wouldn't be able to make political endorsements anymore, but could report on all issues - including political campaigns.
Advertising and subscription revenue would be tax-exempt; and contributions made to help support coverage would be tax deductible.
The Maryland senator says his bill is aimed at saving local newspapers, not large conglomerates. He calls the demise of the newspaper industry "a real tragedy for communities across the nation and for our democracy." And he's right.
The head of the newspaper industry's trade group calls the bill a positive step; although he agrees the approach may not work for all newspapers. Newspaper subscriptions and advertising revenue have dropped significantly in the last few years with more people getting their news from the internet or cable TV. Several newspapers have either stopped daily publications or announced they may have to stop publishing; while others have filed for bankruptcy protection, had layoffs, or announced employee furloughs.
Here's my question to you: Should the government be involved in saving the newspaper industry?
Interested to know which ones made it on air?
Jack from Boynton Beach, Florida writes:
Jack, The government should definitely be involved in whatever manner necessary to keep our newspapers printing the news and telling us what our government and elected officials are up to. Short sound bites on cable television news can never replace investigative journalists and thoughtful columnists no matter how hard they may try.
Darr from Cleveland writes:
No. Let's save some trees and have everyone tap the net for their news. More sources. If people are worried about local news regarding their community, have the community start a website or, better yet, actually get off the couch and attend the meetings.
Jaden from Birmingham, Alabama writes:
Definitely. Newspapers have been driven by profits for too long, seeking sensationalist fluff over journalistic excellence. As non-profits, that motive will be gone, and the papers can focus on actual reporting and investigative work. Just look at top-flight services like NPR and the BBC to see how much better our print media can be.
Melissa writes:
No. The newspapers aren't failing because of the economy, they're failing because they've outlived their usefulness. Everyone has been saying this is coming for at least the last 5 years. We knew that the newspapers would be replaced eventually. They are either going to have to change their format, or close down. That's part of business.
Seth writes:
Absolutely not, this is capitalism at work and we should accept that. Capitalism not only thrives off of competition but requires it. More effective and efficient sources of news are and will continue to take the place of these relics. It's just the way it is. Newspaper companies would be wise to become more dynamic and make a seamless transition into another type of news delivery medium.