FROM CNN's Jack Cafferty:
The economy will no doubt be issue number one when President Obama holds his second primetime news conference tonight. It's been only six weeks since his first primetime newser - but a very busy six weeks it's been. In that time, the president signed the $787 billion stimulus bill into law, put out his $3.6 trillion budget, started facing outrage over the AIG bonuses, and announced plans to bring troops home from Iraq in 19 months and redeploy 17,000 troops to Afghanistan among other things.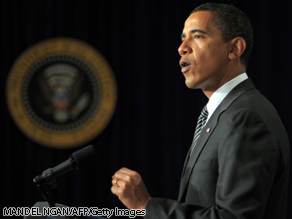 With Mr. Obama's approval ratings holding steady, one Democratic pollster tells NBC news, "The American public is rooting for him. They want him to succeed. But against that, they want answers."
So what do they want answered? Expect more on AIG; including maybe what the president thinks about the House's legislation to tax bonuses at 90 percent. By the way, that's going nowhere. Also on the economy - Pres. Obama will likely face questions on the latest Treasury plan to help buy as much as 1 trillion dollars in toxic assets from banks to help get credit flowing again - a plan that Wall Street seemed to like. Witness the 500 point rally yesterday.
And, as the president gets ready for his first big overseas trip next week - including stops in London, Prague and Istanbul - he might be asked about international issues, which have largely been on the back burner due to the economic meltdown at home. Look for questions about his televised message to Iranians on their new year or his plans to call on NATO to do more in Afghanistan.
Here's my question to you: What would you ask President Obama at tonight's news conference?
Interested to know which ones made it on air?
Ben from Indianapolis writes:
How will health care workers' salaries be affected by the proposed change in health care policy? There are many doctors that I work with who worry about losing substantial income, while also being taxed more for being in a higher income bracket. I still have yet to meet a poor doctor, but couldn't this drive some of the best and brightest away from the field if they worry about their potential income?
Rick from Medina, Ohio writes:
I understand the focus is now on repairing an incredibly difficult situation. At what point, Mr. President, will you and your team shift gears, and focus on prevention? Specifically, what kind of measures and regulations will be your priorities?
Chris from Buffalo, New York writes:
I would like to ask the president: Did you read the economic stimulus bill that you signed? If so, why were you shocked that AIG was just following the law when they paid out those bonuses?
Judy writes:
I would ask: When will U.S. citizens be able to buy products that are "Made in America" instead of China? I would also like to know when companies doing business outside of the U.S. will stop receiving tax breaks.
Tom from Fort Lauderdale, Florida writes:
Jack, I would like to ask President Obama when he intends to enforce the immigration laws. Our last administration did a poor job of protecting our borders.
Mary from Santee, California writes:
How can the president, in good conscience, saddle my children, grandchildren, and great grandchildren with a debt that they will never get out from under?
Tina from Texas writes:
I would not ask him anything, but thank him for caring for us in the middle and lower class. We need help, unlike the mega-rich.