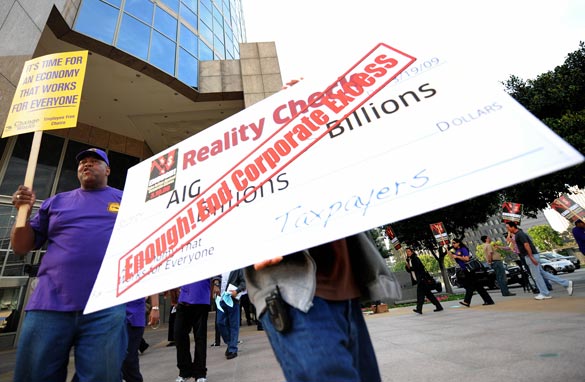 People protest against corporate bailouts in front of AIG's Los Angeles office.(PHOTO CREDIT: GABRIEL BOUYS/AFP/GETTY IMAGES)
FROM CNN's Jack Cafferty:
There seems to be plenty of opposition to the House of Representatives' bonus tax plan - including perhaps President Obama himself.
In a move that many saw as "grandstanding," the House rushed through that 90 percent tax on bonuses of big earners at bailed-out financial institutions last week. The measure came in response to news that AIG paid out at least $165 million in bonuses - after getting $170 billion in taxpayer bailout money.
But in an interview with "60 Minutes," the president questioned the legality and constitutionality of the tax; and said that he wouldn't "govern out of anger." Nonetheless, Mr. Obama vowed to make Wall Street understand it must do away with "the old way of doing business."
He said the Senate would produce a very different and more acceptable version of the the bonus tax bill; maybe one he could sign.
Also coming out against the tax were other top administration officials - the vice president's top economic adviser, Jared Bernstein, said it "may be a dangerous way to go." And the chair of the White House Council of Economic Advisers, Christina Romer, said the president favors creating a federal "resolution authority" over bailed-out financial institutions which would allow a judge to void the kind of contracts that let AIG pay out the bonuses.
Meanwhile the American public clearly wants that money back. A new Gallup poll shows 76 percent of those surveyed want the government to intervene to block or recover the AIG bonuses.
Here's my question to you: Is it a good idea to tax bonuses?
Interested to know which ones made it on air?
David from San Diego writes:
The public's confidence in private enterprise will not be restored until there is some effective control over the excessive, undererved compensation received by many executives. Tax policy may not be the most useful way to address this, but "interlocking directorates" and the belief that one's top employees are "too big to fail" has led to an imbalance that must be corrected somehow.
Calvin writes:
Taxing the bonuses is not a good idea. A contract is a contract whether right or not. Too many Americans today are complaining about "big brother" being too invasive already. Imagine the turmoil that would be caused by a 90 percent tax on a bonus just because the government did not think you deserved it.
Joe from Missouri writes:
If the government can target rich CEOs, they can target you. I hate the bonuses, but creating special taxes to target groups you don't like is a bad idea.
Amy writes:
While I believe the bonuses were absurd, this law is unconstitutional. The Constitution prohibits ex post facto laws. End of discussion.
S. writes:
The gap that allowed the bonuses to have been paid is the problem. Going after the recipients now is closing the barn door after the horse has vacated. Congress is half-assing this stuff and we're left holding the bag. Morons.
Joseph writes:
From my perspective, these companies sacrificed their right to avoid such strict government oversight when they begged that same government to interfere.
Sarah writes:
Why not? They get to keep 10 percent of it for doing a bad job.