FROM CNN's Jack Cafferty:
I like him, but I'm tired of looking at him. It feels like President Obama is everywhere these days. When he holds a prime time press conference tomorrow night, it will already be the second one in his very young administration.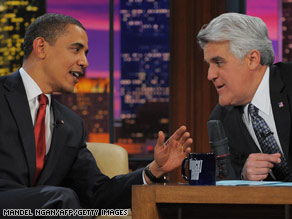 Media wise, is President Obama getting overexposed?
He was chatting it up with Jay Leno on the Tonight Show last week; which was great until they started talking about bowling. Every day some town hall meeting or summit at the White House or elsewhere gets covered live by the cable networks. We show him leaving, getting there, doing it, leaving, and getting back. Enough!
Plus, you can't pass a newsstand without dozens of Obamas staring at you...
Politico dubs Mr. Obama "the Everywhere President," pointing out how despite a severe recession and two wars overseas - he's making the effort to give off a very personal and intimate presidential image. But some experts suggest a personality-driven presidency does have its risks. One media and pop culture expert says the president is trying to "metaphorically remove the moat from around the presidency," but that can be tricky.
Former White House Press Secretary Dee Dee Myers says that when a president is in the public eye too often, people may just stop listening at some point.
Republicans have already been critical of the president for appearing on ESPN to fill out his college tournament brackets and doing the Tonight Show interview. But the GOP attacked Mr. Obama for being a "celebrity" during the campaign; and that didn't seem to work too well.
And the Special Olympics gaffe on the Tonight Show aside, interviews outside the realm of hard news do give him a chance to connect to more Americans. 'The Tonight Show with Jay Leno' scored its fourth highest ratings ever the night the president was on.
Here's my question to you: When it comes to the media, how much of President Obama is too much?
Interested to know which ones made it on air?
Jo from Fort Collins, Colorado writes:
Pooh to you, Jack! I love to see as much of this president as possible. It's so refreshing to get updates almost daily; I feel more a part of the "process" of this country than ever before. He is just trying to make us feel like responsible Americans again and I think it's what we need!
Michele from Sparks, Nevada writes:
Tired of seeing him? C'mon Jack! He is the most approachable and open president we have ever had. He is talking to his employers (us) about how he is doing his job and staying in touch with what matters to Americans. I'd rather have this new set-up than the secret administration from years past. We are done being kept in the dark. We are not mushrooms and should not be treated as such.
Marsha writes:
Enough already! Get to work, Mr. President. You look far too relaxed and jovial for the current state of affairs. Trust me, Mr. President, the American people aren't doing a lot of smiling right now.
Joe writes:
How much fresh air do we need? Big relief so far – we'll let you know.
Liz from Los Angeles writes:
Depends how you voted, don't you think? The Republicans are still sore that he won, and are natural whiners to boot… so there you go.
Ken writes:
If it's going to be a transparent administration we need to see a lot. We need Obama to be there to explain the processes to those of us who don't understand. The unnecessary appearance on the "Tonight Show" is another thing all together.
John writes:
Are you kidding, Jack? After that last guy in the White House, we now get to listen to actual intelligence, wit and charm. Damn, stick one of them Obama IVs in my arm. I'll take mine intravenously.