FROM CNN's Jack Cafferty:
As the AIG bonus scandal continues to brew, some believe it's time for Treasury Secretary Tim Geithner to either quit or be fired.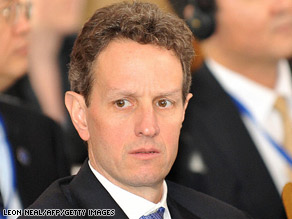 Should Geithner be fired over AIG?
If Geithner didn't know about the $165 million in bonuses earlier, he should have. He told CNN yesterday quote "It's my responsibility; I was in a position where I didn't know about those sooner. I take full responsibility for that."
Geither insists he found out about the full extent of the bonus problems last week on March the 10; but The New York Times describes the bonus program as "a disaster hiding in plain sight."
They report that in a March 3 congressional hearing, Geithner was asked what could be done to stop AIG from paying $165 million in bonuses. The Treasury secretary responded that executive pay had gotten "out of whack" and pledged to crack down on pay at companies like AIG that were getting bailout money.
A Treasury spokesman says although that question came up two weeks ago, Geithner was "not aware of the timing or full extent" of the bonus situation until March 10.
And there's more... Officials at the Treasury, the Fed and Federal Reserve Bank of New York exchanged e-mails about the bonus program in late February. AIG revealed the bonus plan in filings last September. In November, Treasury and Fed officials negotiated the terms of these retention payments; and in December, Democrats called for a hearing on the bonuses.
Here's my question to you: Should Treasury Secretary Timothy Geithner be fired over the AIG bonus scandal?
Interested to know which ones made it on air?
Bert writes:
Jack, I'm a Democrat and stand behind our president. But besides vetting his appointments, is there a common sense test they must also pass? It seems like every other head in our new administration is screwed on backwards! So many balls being dropped – too many errors.
Ralph from Orlando, Florida writes:
I'm for keeping Geithner. I doubt we'll get anyone better and changing people at this point will likely do more harm than good. The people who are calling for his head are the same "conservatives" who got us into this mess, so to hell with them.
Thema writes:
If Geithner means what he says "I take full responsibility" literally, then he should resign or be fired. People use that phrase so much without meaning what they say.
Joan writes:
No, the guy is working 15 hours a day trying to clean up the Bush mess.
Jess from Ohio writes:
He should resign. He knew about it. He can play dumb as long as he wants. He should just realize that the longer he continues to play dumb, the more proof gets published about these retention bonuses and when Treasury knew.
Ben from Stockton, California writes:
Add Chris Dodd to that list. Obama is trying to do the right thing, but these clowns just add fuel to the GOP talk show crowd. Obama needs to go very hard on AIG: no bonuses at all. If he can make an example out of AIG, the other institutions will think hard before trying to milk the taxpayers for more money. Enough is enough.
Jay writes:
If people were fired for being stupid, the unemployment rate would be 90%.
Chris writes:
Isn't Geithner too big to fail?