FROM CNN's Jack Cafferty:
Nancy Pelosi doesn't think enforcing some of our immigration laws is a good idea. I guess we don't need the Justice Department; just ask Pelosi what laws she thinks we should enforce.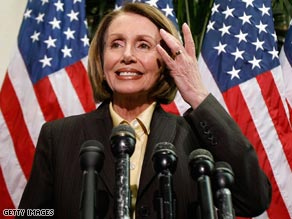 Is it is un-American to enforce our immigration laws?
The House Speaker was condemning raids by Immigration and Customs Enforcement agents at an immigration event in San Francisco last weekend. Here's what she said: "Who in our country would not want to change a policy of kicking in doors in the middle of the night and sending a parent away from their families? It must be stopped… What value system is that? I think it's un-American. I think it's un-American."
In case you had trouble understanding her, Nancy Pelosi was telling a largely Hispanic audience that enforcing America's immigration laws is un-American. This is called pandering.
Yesterday Pelosi said she was standing by her statement. She added that we have to enforce our laws, control our borders, protect our workers and create a path to legalization for those who aren't fully documented; but repeated that doesn't mean kicking in doors in the middle of the night. Pelosi said what we really need is comprehensive immigration reform.
Here's my question to you: Nancy Pelosi says enforcing our immigration laws is "un-American." Is she right?
Interested to know which ones made it on air?
Bruce from St. Paul, Minnesota writes:
Did she say what time might be alright to enforce laws, if not the middle of the night? Would 11pm be too late? 7am too early? Does she think other types of criminals should not be apprehended if they are in the bosom of their family? Honestly, I don't know what her point is. Is there an intelligence test you have to fail to be in Congress?
Natalie writes:
I used to think she was really a great politician. Now I realize that is all she is: a stupid politician. I really think we need to work to oust her just as hard as we worked to get Obama elected. She is so "me-me-me"; she really is hurting Obama.
Jay from Texas writes:
I agree with Nancy Pelosi that police kicking in doors, in the middle of the night, and terrorizing families sounds like the tactics of a fascist government and that is most certainly "un-American."
Ben from Boston writes:
Mexico is part of North America. Probably enforcement looks un-American by those born south of the Rio Grande, but for me it looks as American as apple pie for a country governed by the rule of law. By the way, does Mexico enforce its immigration laws?
Brandon from New York writes:
Pelosi was speaking up against the practice of raiding homes in the middle of the night and separating illegal immigrant parents from their children who were born here. That practice really is un-American and if the law encourages it then the law is un-American…I don't like Pelosi but I agree with her on this one.
Larry from New Jersey writes:
Exactly what country does Nancy Pelosi believe she is in?