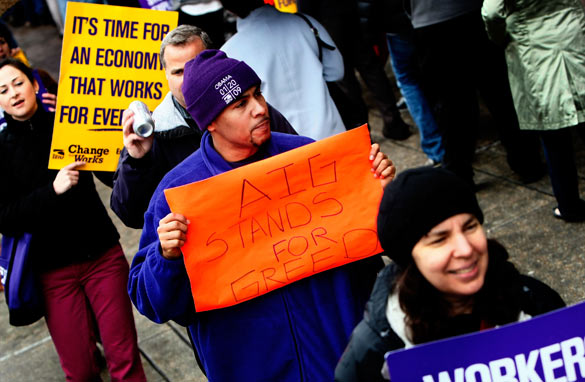 Protesters demonstrate outside an AIG office in Washington, DC.(PHOTO CREDIT: WIN McNAMEE/GETTY IMAGES)
FROM CNN's Jack Cafferty:
There's a chance the public outcry over those AIG bonuses winds up hurting President Obama's ambitious agenda.
Critics of the administration are now armed with new ammo in the form of public outrage that they can use to block Mr. Obama's efforts - particularly when it comes to his economic agenda - like the budget.
Republicans keep hammering away that Treasury Secretary Geithner and the White House should have known about the $165 million in bonuses sooner - and acted quicker. They're also using the AIG scandal to show why Congress shouldn't pass any more bailouts.
One Republican strategist tells Bloomberg News, "The real target for the Republicans is to bring Obama back down to earth." You can bet they'll be watching his poll numbers.
Also, all the time spent debating and passing new legislation on bonuses, holding hearings on AIG, etc. is time taken away from other issues on Mr. Obama's agenda - health care, education, you name it...
And the president isn't the only politician who may be affected by the AIG saga. In a story that broke right here on CNN: Democratic Senator Chris Dodd initially denied that he had anything to do with adding language to the stimulus bill that protected bonuses at companies getting bailout money.
24 hours later, the senator changed his tune, admitting he was responsible. Chris Dodd lied; and the voters in Connecticut probably won't forget it next time he's up for re-election.
Here's my question to you: How much damage will the AIG bonuses do to President Obama's agenda?
Interested to know which ones made it on air?
Matt writes:
It depends on how Obama handles the fact that Geithner knew about all this in advance and Dodd was the author of the loophole that allowed the payout to happen. Dodd is trying to put this on the White House. If true, Geithner needs to be fired and Obama needs to call for Dodd to step down in the wake of his lying to the American people on CNN.
Pablo from Arlington, Texas writes:
The president is taking responsibility for it and taking the heat for it. That's as it should be. Ain't it nice for a change to have a president who means it when he says, "The responsibility is mine and I expect the American people to hold me responsible?"
Deborah from Waleska, Georgia writes:
None, he is trying to change how things have always been done. This is a culture, not a Democratic or Republican issue. We have got to start doing the right thing. I believe President Obama is striving for that. It's about time!
J. writes:
I think it will further damage Obama's credibility. He's had about 5 errors on picking cabinet members who fudged on their taxes, and now this! He's definitely showing signs that he was NOT ready for office.
Conor from Chicago writes:
The AIG bonuses are damaging to everyone other than AIG executives. The idea that people could nearly send the entire world economy into the dark ages and then get a monetary "thank you" for it defies everything we teach our children, expect of our citizens, and demand of our leaders. Instead it demonstrates that power, wealth, and prestige should be seen as more important than the good of the nation and the good of the world. This is damaging to everything.
Mike writes:
As much as I dislike the AIG bonuses, I like what Congress just did even less. This is just hollow grandstanding… Dems are reacting to being embarrassed and having their actions come back to haunt them. That's it, pure and simple. For all those who defended the Dems forcing their bill through with little time to consider or even read the legislation, this is what you get.