FROM CNN's Jack Cafferty:
As outrage over AIG bonuses reaches a fever pitch, many are now wondering why our leaders in Washington didn't do more to prevent the situation in the first place. The Obama administration says that it didn't know until a couple of weeks ago that AIG executives were set to receive $165 million in bonuses.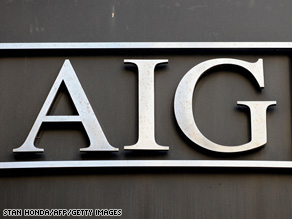 Cafferty: Why didn't our leaders in D.C. do more to prevent this situation?
They say that Treasury Secretary Tim Geithner found out last Tuesday; and the president learned of all this on Thursday, just a day before the controversial retention payments went through. But Geithner was running the New York Federal Reserve Bank last fall when AIG got a high-interest loan of 85 billion dollars to help prevent collapse - along with its first installment of federal bailout money.
And none of these folks must watch CNN because in late January, Mary Snow did a story on this very program about the insurance giant paying hundreds of millions of dollars in bonuses to its financial products unit.
And then there's Congress... When some lawmakers tried to prevent bonuses in the stimulus bill last month they actually made an exception for pre-existing contracts. Democrat Chris Dodd - who proposed the executive compensation provision - insists that he did not include that exemption clause. He says he doesn't know how it got there; as do several other Democratic sources.
Dodd and then candidate-Barack Obama were the top recipients of AIG political contributions in 2008 - each getting more than $100,000.
And there's more... The Senate had passed a bipartisan amendment that would have taxed bonuses on any company getting federal bailout money if the company didn't pay back the bonus money to the government; but that was stripped from the stimulus bill during closed-door meetings. This is bordering on insanity.
Here's my question to you: How much is Washington to blame for the AIG bonus scandal?
Interested to know which ones made it on air?
Mark from Wisconsin writes:
Jack, Washington is yet again proving how inept it is. The speed with which the bailouts occurred meant that not enough attention was paid to the fine details. There are no good guys here, Obama included. And Geithner? My God, could we have been given a more ineffectual person? Obama, for all of his intelligence, has made very bad decisions regarding cabinet and advisor choices all around... Obama didn't create this mess (as he is quite fond of saying), but his inexperience is showing.
Armando writes:
Of course Washington is responsible! Someone in Congress filtered in the clause, which would allow for bonuses to AIG executives to be paid. We, the people, need to know who that lawmaker was! Please, help us.
John from Louisiana writes:
Two words we're not hearing: Paulson and Bush. Why is everyone blaming Washington, Congress and Timothy Geithner (who's only been in office for 60 days)? Bush's Treasury Secretary, Hank Paulson, started it all, Jack. Paulson was given the TARP to use to buy up toxic mortgages. Instead he gave it away (including $180 billion to AIG) with no strings attached.
Noah from Sumter, South Carolina writes:
Asking, "How much is Washington to blame for the AIG bonus scandal?" is like asking "How much is McDonald's to blame for the overwhelming obesity rate in America?" AIG got fat, dumb and happy off of Washington's bailout value meal and then lined their pockets with the leftovers. All the while, the American taxpayers are left homeless, jobless and hungry with a bleak future to look forward to. Both Washington and AIG need to cut the fat with a diet of ethics and moral fiber.