President Barack Obama heads to California today where he'll hold a couple of town hall-style meetings and answer questions from ordinary Americans about the economy, among other things.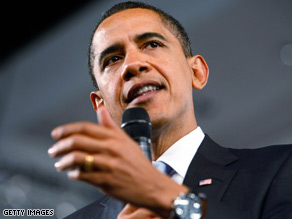 President Obama will answer questions from ordinary California citizens.
Although a visit to California is usually a breeze for a Democratic president, Mr. Obama should probably prepare himself for a good grilling. California - which, on its own, is the world's eighth-largest economy - has been ravaged by the recession, a housing meltdown and double-digit unemployment. The president's trip also comes while the public is outraged over the $165 million in bonuses given to AIG executives.
Americans have plenty of worries about the economy. A new CNN-Opinion Research Corporation poll shows 63 percent of those surveyed say the economy is the most important issue facing the country.
When asked what the top economic concern is, 36 percent of Americans say unemployment, 20 percent say inflation, 16 percent say the mortgage crisis, 14 percent say the stock market, and 11 percent say taxes.
In addition to the town hall meetings, President Obama is scheduled to appear on 'The Tonight Show' with Jay Leno tomorrow night, making him the first sitting president to hit the late-night talk show circuit.
It's all part of the White House's effort to sell its economic plan to Main Street.
Here's my question to you: What would you tell the president about the economic situation where you live?
Interested to know which ones made it on air?